Trump Allays Colombian Fears, Praising 'Magnificent Job' on Peace
By and
Colombian President Santos met with Trump in Washington

Santos seeks U.S. backing after signing rebel peace accord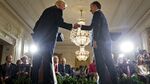 President Donald Trump lavished praise on his Colombian counterpart Thursday, saying Juan Manuel Santos had done a "magnificent" and "fantastic" job to end half a century of Marxist insurgency.
"Colombia is one of our closest allies in the hemisphere and today we reaffirm partnership," Trump said at a joint press conference in Washington. "I really congratulate you. There's nothing tougher than peace."
The remarks will help allay fears of a radical change in the relationship between the countries, said Jorge Restrepo, director of the CERAC research institution that monitors the conflict. Colombia is the biggest recipient of U.S. aid in the Americas. Yet despite getting more than $10 billion since 2000, the country is growing record quantities of coca, and remains the world's biggest producer of cocaine, according to U.S. government data.

Trump has upended long-standing U.S. attitudes to NATO, Russia, China and Mexico, and many in Bogota had worried that their decades-old alliance with Washington could suffer the same fate. In the press conference, which was overshadowed by questions about local controversies such as the firing of FBI director James Comey, Trump reassured Santos that Colombia will continue to receive U.S. backing.
"He clarified enormously the support of the U.S. administration for the peace process, the anti-narcotics policy, and clarified that a re-negotiation of the free trade agreement isn't in their interest," Restrepo said. "This eliminates three sources of uncertainty for Colombia."
The U.S. has provided aid to Colombia for at least six decades, with this being dramatically stepped up under the Clinton administration's Plan Colombia counter-narcotics program. The Marxist rebels known as the Revolutionary Armed Forces of Colombia, or FARC, have moved their fighters to zones monitored by the UN, where they're handing over their weapons.
— With assistance by Oscar Medina
Before it's here, it's on the Bloomberg Terminal.
LEARN MORE