Third Point Deploys AI, Big Data With Half Dozen Quants
By and
Hedge fund said to rebound to $16 billion in assets this year

Loeb says don't overestimate firm's expertise in quant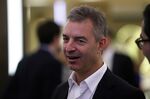 Daniel Loeb, the founder of $16 billion hedge fund Third Point, said his firm is using artificial intelligence to analyze big data and now employs about a half dozen quants.
Loeb told attendees Thursday at the SkyBridge Alternatives Conference in Las Vegas not to overestimate his firm's mastery of machine learning in comparison to experts in the field, according to people who heard his presentation. The firm isn't using systematic trading, the people said. Loeb's panel was closed to the press.
Third Point, which has traditionally focused on human-driven bets on stocks and debt, hired data scientist Matthew Ober away from WorldQuant, the quantitative trading firm led by Igor Tulchinsky.
The Third Point Offshore Fund rose 1.6 percent in April, bringing gains for the first four months of the year to 7.5 percent, according to a document. Earlier this month, Loeb said the firm was finding fewer opportunities in corporate, structured and sovereign credit, and looking to make money from stocks involved in mergers and acquisitions.
He said the stock market is rocking on despite the tumult in Washington this week and the firm has re-oriented its portfolio to reflect a pro-business government, including investing in industrials and cyclicals. Loeb recently disclosed an investment in Honeywell International Inc. and called for the industrial manufacturer to spin off its aerospace business. He has said he expects the company to thrive whether or not it follows his plan.
The firm has been accepting new capital for the first time in years as the hedge fund industry has come under pressure. The firm's assets slipped from $17 billion to $15 billion in 2016, before rising through performance and inflows to its current $16 billion.
Loeb said regulatory pressures are keeping talented managers from starting hedge funds. Last year Third Point said hedge funds were in the midst of one of the most "catastrophic periods" it could remember and predicted a "washout in hedge funds and certain strategies."
— With assistance by Hema Parmar, and Nabila Ahmed
Before it's here, it's on the Bloomberg Terminal.
LEARN MORE