Theresa May's Path to Victory Goes Through These Key Seats
By
Win in Bury South could point to 100-seat Commons majority

Can Conservatives win over London Remainers in Tooting?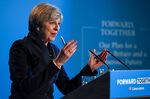 How well U.K. Prime Minister Theresa May is doing in her quest for an increased parliamentary majority on June 8 should become apparent soon after the polls have closed, according to a timetable of expected results.
Five constituencies that her Conservatives might be expected to gain from the main opposition Labour Party are set to announce their results by about 2 a.m. in London, a list published Wednesday by the Press Association newswire shows. They are set to be among the first 50 results declared once voting ends at 10 p.m.
The key districts are Darlington in northeast England, Clwyd South and Wrexham in North Wales, Bury South in the northwest and Tooting in south London. The Tories need a swing of 2.8 percentage points from Labour to capture Wrexham -- about half the shift in support currently suggested by national polls.
In Bury South, the swing needed is 5.2 points, making it the 45th most winnable Labour-held district. If May wins Bury, and a similar transfer of votes from Labour to Conservatives is replicated across the country, that would put the Conservatives on track for a majority of around 100 seats in the 650-member House of Commons.

A win in Tooting would be a serious blow to Labour in London, where the Tories have fallen behind Labour in recent years. A YouGov poll last week suggested the Conservatives were making less headway in London than in the rest of the capital. While Tooting, once the seat of London Mayor Sadiq Khan, is the 21st most winnable Labour seat for the Tories, it was one of the most pro-Remain areas in last year's European Union referendum.
The Conservatives will also be hoping for an early gain from the Liberal Democrats in Norfolk North, due to announce its result about 2 a.m. The Lib Dems' main campaign pledge of a second referendum on the terms of Brexit is at odds with sentiment among Leave voters, who are in a majority in the district.
As ever, the first results are expected from the northeastern city of Sunderland, at about midnight or even earlier. Sunderland hasn't elected a Tory since 1959, and it would take a 13.4-point swing for the Conservatives to capture Sunderland Central. As in many other pro-Brexit districts, much will depend on which way former U.K. Independence Party voters turn. If there is a shock on this scale, the Tories could be looking at the sort of landslide win obtained by Tony Blair's Labour Party in 1997.

Before it's here, it's on the Bloomberg Terminal.
LEARN MORE