French Tycoon Ordered to Repay $450 Million by Top Court
By
French judges dismiss Tapie's appeal to stop repayment

Lower court ruled for return of fraudulent obtained funds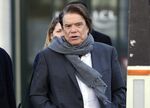 France's highest court dismissed Bernard Tapie's bid to overturn a ruling by ordering the repayment of about 405 million euros ($450 million) to a company set up to manage former state-owned bank Credit Lyonnais' debts, months after Christine Lagarde was convicted of negligence in a parallel case.
The Cour de Cassation backed on Thursday a December 2015 ruling from the Paris court of appeals that ordered Tapie, his wife, the companies of his group and his liquidators to repay the funds on the basis that they had been obtained fraudulently.
International Monetary Fund Managing Director Lagarde was put on trial and convicted -- without being sentenced -- for her negligent handling of a dispute between Credit Lyonnais and Tapie over the 1993 sale of Adidas AG. Lagarde, who allowed the disagreement to go to arbitration, was criticized by French judges for failing to appeal the award.
Maurice Lantourne, one of Tapie's lawyers, didn't immediately respond to requests for comment.
The subsequent government payout was cut to zero two years ago after doubts were cast on the impartiality of one of the three arbitrators but Tapie appealed that decision, leading to Thursday's ruling.
Quotes from this Article
Before it's here, it's on the Bloomberg Terminal.
LEARN MORE