politics
Democrats Sound Off on Trump Eyeing Lieberman for FBI Director
By
President may make choice before leaving on trip Friday

Says former Connecticut senator is a top contender for post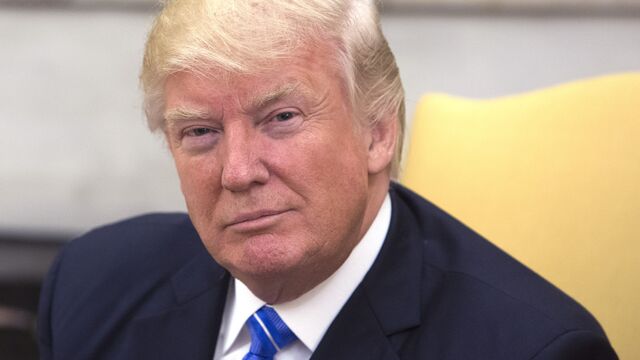 Donald Trump may want to pick a new FBI director before setting out on his first foreign trip as president Friday, but one of his top choices is being scorned by Senate Democrats -- even though he was once one of their own.
Trump told reporters on Thursday that he's "very close" to picking someone to replace James Comey, whom he fired last week amid a federal investigation of Russia's interference in the 2016 election. Trump said former Connecticut Senator Joseph Lieberman, who served as the Democratic Party's 2000 vice presidential nominee before becoming an independent, is one of his top choices.
Several Senate Republicans said Lieberman would be a good choice, but a senior Democratic aide said there is overwhelming opposition among Senate Democrats, with many concerned he wouldn't be a fair arbiter.
"There's a strong feeling among many of my colleagues -- and I share it -- that the director of the FBI should be someone with a real, strong background and expertise and experience in criminal justice rather than partisan politics," Connecticut Senator Richard Blumenthal said on CNN on Friday. 
Blumenthal said he respects Lieberman's public service but that "the FBI director, now more than ever, has to be above politics with unquestionable credibility in the law-enforcement community rather than involvement in politics."
Added Senator Angus King, a Maine independent who often votes with Democrats, on CNN: "I like Joe Lieberman. I don't like the pick."
"I don't think it should be a politician," King said.
There's little time left for Trump to announce his nominee if he wants to do so before departing Friday afternoon on an eight-day trip that will take him from Saudi Arabia to Israel, Italy and Belgium. The pressure eased Wednesday when Deputy Attorney General Rod Rosenstein named former FBI Director Robert Mueller as special counsel overseeing the federal probe of Russia's role in the election and any possible links to Trump associates.
With no permanent FBI chief in place, the bureau continues to be run by Acting Director Andrew McCabe.
Here's a look at Lieberman and some of the other candidates Trump and Attorney General Jeff Sessions are considering.
Joe Lieberman
The former four-term senator is the front-runner for the job, Trump told reporters Thursday. Lieberman was chairman of the Senate Homeland Security Committee. Although he has no direct experience working as an FBI agent, federal judge or prosecutor, he did serve as Connecticut's attorney general before his election to the Senate.
While Lieberman, 75, has tried to cultivate a bipartisan reputation -- he spoke at the 2008 Republican National Convention and endorsed Hillary Clinton in 2016 -- he doesn't fit the profile some members have recommended for the next FBI director. Senate Majority Leader Mitch McConnell said this week that the "most important" attribute for Trump's pick is that he or she is "apolitical." Critics may also see a conflict of interest in Lieberman's work for Kasowitz, Benson, Torres & Friedman LLP, a firm that has represented Trump in lawsuits.
For more politics coverage, subscribe to the Bloomberg Politics Balance of Power newsletter
Frank Keating
Keating, who served as the Republican governor of Oklahoma from 1995 to 2003, is a former FBI agent who was an associate attorney general, the third-ranking official within the Justice Department, during the Reagan administration. Now a senior partner at Holland & Knight, the 73-year-old Keating was also the chief executive officer of the American Council of Life Insurers and president of the American Bankers Association. One major hurdle for his candidacy would be whether the president could look past Keating's criticism during the 2016 campaign -- when he wrote an op-ed titled "Anyone But Trump."
Frances Townsend
A counterterrorism adviser to former President George W. Bush, the 55-year-old Townsend has long been on the president's radar, interviewing during the transition for a job as secretary of Homeland Security. She worked for Trump ally Rudy Giuliani as a federal prosecutor in New York and also oversaw the Justice Department's Office of Intelligence Policy. But Townsend, who would be the bureau's first female director, also criticized the president's travel ban on several majority-Muslim nations and signed a letter circulated by conservative foreign policy experts during the campaign expressing concern about Trump's fitness for the presidency. She currently works as a national security analyst for CBS News.
Andrew McCabe
The acting FBI director, who assumed his position with Comey's dismissal on May 9, has served in the FBI for more than two decades, including management positions in the Counterterrorism Division and Washington field office. But Trump criticized McCabe on the campaign trail last year for not recusing himself from the investigation into Clinton's use of a private email server. The reason? McCabe's wife, a Democrat seeking state office in Virginia, had received campaign donations from Governor Terry McAuliffe, a longtime Clinton associate.
Another FBI veteran, McFeely's 24-year career included time as executive assistant director of the Criminal, Cyber, Response and Services branch. After starting his tenure at the bureau investigating violent crimes in Boston, he eventually served as the lead case agent in the bombing of the Oklahoma City federal building in 1995. The combination of FBI experience and background in cybersecurity -- an area Trump has pledged to bolster -- could appeal to the president. He now works as Director of Investigative Services for accounting firm EY.
Michael Garcia
Garcia, 55, is an associate judge on the New York Court of Appeals who served as U.S. attorney for the Southern District of New York during Bush's administration. He oversaw a series of public corruption and counterterrorism cases, including former NYPD Commissioner Bernard Kerik's tax evasion case and Governor Eliot Spitzer's prostitution scandal. His career also includes a stint as assistant secretary for Immigrations and Customs Enforcement, the federal government's second-largest investigative agency.
Henry Hudson
A federal judge in Richmond, Virginia, the 69-year-old Hudson would be a popular choice among conservatives. Best known for a 2010 ruling against the individual mandate in Obamacare -- later overturned by the Supreme Court -- he also was responsible for sentencing former NFL star Michael Vick after his conviction for operating a dogfighting ring. Hudson's reputation as tough on crime would probably appeal to Sessions, but the Obamacare decision would weigh on the minds of Democratic senators.
A 31-year veteran of the FBI, Lee was named by Comey in 2014 to lead the bureau's Richmond office after earlier serving as the chief of the Public Corruption and Civil Rights Section. His experience investigating government officials could bolster his candidacy. He's worked closely with Dana Boente, who briefly served as acting attorney general before Sessions took office and after Trump fired Acting Attorney General Sally Yates.
Mike Rogers
The Michigan Republican, who previously chaired the House Intelligence Committee, can boast experience working as an FBI agent in the 1990s in addition to his political pedigree. Now a security analyst for CNN, the 53-year-old has been endorsed by the FBI Agents Association, a group that claims to represents over 13,000 active-duty and retired agents. But his standing with Trump is unclear: Rogers quit his post as a national security adviser to the president's transition team barely a week after the election.
Rudy Giuliani
The 72-year-old former mayor of New York City isn't among the candidates the Justice Department has listed as being interviewed for the job. But the longtime Trump ally is already leading the president's cybersecurity task force and worked closely with the FBI in the aftermath of the Sept. 11 attacks and during his time as a U.S. attorney. Still, Giuliani would face a tough confirmation fight in the Senate, where his ties to Trump, consulting work, and controversial comments would be rich fodder for opponents.
— With assistance by Chris Strohm, Jennifer Jacobs, Jennifer Epstein, and Sahil Kapur
(
Updates with Blumenthal, King comments starting in fourth paragraph.
)
Before it's here, it's on the Bloomberg Terminal.
LEARN MORE