No Sweat in Spain as Traders Try Riding Out Socialist Primary
By and
Former leader Sanchez trying comeback after September ouster

Spain's credit default swaps may jump if Sanchez wins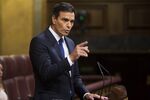 Traders appear to be taking Spain's political stability for granted.
The Socialist leadership election on Sunday might change that.
A comeback victory by former party chief Pedro Sanchez would probably end the group's tacit support for the minority government of Mariano Rajoy and signal a return to the more turbulent times that saw lawmakers struggle to elect a prime minister last year after two elections in short succession.

Credit default swaps, a barometer of the perceived ability of the Spanish government to repay its debts, are trading close to this year's average. Investors are paying about 74 basis points, or 0.74 percentage point, to insure against a default for five years, compared with its average of 75 basis points in 2017.
"This could pop up to 80 or 90 without any doubt if Sanchez won, and the bond spread to German debt would widen," said Javier Ferrer, head of global rates at Ahorro Corp. in Madrid. "But they'll come back down soon as Sanchez would have to first piece together his party, because it would be almost broken if he's triumphant. That has to happen before Sanchez tries anything important on the national level."
Rajoy took office for a second term in October after a 10-month impasse that was only broken when Socialist officials led by Susana Diaz, frontrunner to claim the leadership now, wrested control of their party from Sanchez. Party grandees objected to Sanchez's insistence on vetoing Rajoy's candidacy, risking a third election in a year amid mounting concern that Spain had become ungovernable. Since then, the Socialist party has been run by an administrator.

On Sunday, Socialist members will choose a leader from three candidates. Diaz, the Andalusian regional leader favored by most Socialist elders, was sponsored by about 59,000 party members while Sanchez was backed by 53,000. Patxi Lopez, a former president of the Basque region, had about 11,000 sponsors.
"If former Socialist leader Pedro Sanchez wins the contest, the risk of early elections over the next 12 months will significantly rise," Antonio Barroso, deputy director of research at Teneo Intelligence in London, wrote in a note May 17.
Spreads Narrow
Barroso sees the race between Sanchez and Diaz as neck-and-neck. "Sanchez has been able to capitalize on the anger of many party members following his messy ouster last October that led the Socialists to abstain in the vote to allow Rajoy to be elected."
That hasn't cooled investors in Spain's benchmark 10-year bond. The security, more stable than swaps, has gained in value this week, partly as traders globally switched into fixed income amid the turmoil over the Trump administration's future.
The yield premium investors demand to hold the debt compared with similar-maturity German bunds has declined about one basis point to 1.22 percentage points this week. Swaps soared to more than 130 last June when polls signaled no single party would win a clear victory in the country's second election in six months.
To be sure, an upset victory for Sanchez is unlikely to force another election in the short term, with his party still trailing Rajoy's PP by about 12 percentage points in opinion polls and the wounds still raw from months of infighting while unemployment is at its lowest level in almost a decade.
Instead, expect a return to hostilities as the new opposition leader seeks to revive his party's morale and its polling numbers by hammering Rajoy over a fresh wave of party corruption allegations and blocking his legislative agenda.
Before it's here, it's on the Bloomberg Terminal.
LEARN MORE