Mueller Pick Gives FBI's Russia Probe a Veteran Hand Post-Comey
By , , and
Former Vietnam Marine works cases 'without fear or favor'

Stood beside Comey over Bush-era domestic surveillance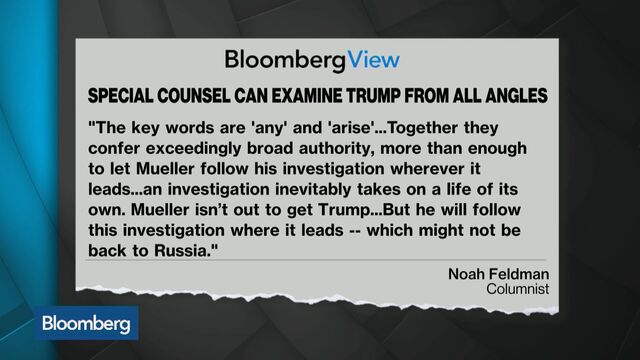 The last time former FBI director James Comey stood up to the White House, Robert Mueller was right beside him.
Now Mueller, who on Wednesday was named special counsel in charge of the Justice Department's probe of Russia's attempts to manipulate last year's election, takes over where Comey left off.
QuickTake Your Guide to the Russia Investigations
The Justice Department official who's overseeing the probe, Rod Rosenstein, would have been hard-pressed to pick a figure more in step with Comey, who was fired last week as head of the Federal Bureau of Investigation by President Donald Trump.
Mueller, after all, was the FBI Director for more than a decade until Comey replaced him in 2013. Both capped Justice Department careers with stints leading the FBI. Their paths notably intersected in 2004, when both were present at a dramatic hospital bedside standoff over then-President George W. Bush's domestic surveillance program. Comey later provided testimony about the moment, supported by a memo of the scene written by Mueller, that disputed the White House's version of events.
Read more: How the Mueller appointment gave a boost to Justice Department credibility
Discussions of FBI independence and memo-writing are taking center stage once again. The sprawling investigation that Mueller will inherit may include questions about whether the White House tried to interfere in the FBI's work. One key issue may be a memo that people familiar with the situation have said Comey wrote after a meeting with Trump. The document, they say, describes the president's apparent efforts to persuade Comey to stop his investigation of former national security director Michael Flynn, who was caught up in the Russia probe. The White House has denied that the president asked Comey to go easy on Flynn.
"I accept this responsibility and will discharge it to the best of my ability," Mueller said in a statement after his appointment.
Mueller is not the type to be daunted by the White House or the president, said William McLucas of WilmerHale, the law firm where Mueller worked until stepping down Wednesday.
"I don't think anyone would even deign to push him or suggest that he should go one way or another," said McLucas. "It would have no effect. He was a Marine captain in Vietnam."
Purple Heart
Mueller, 72, earned a Purple Heart and Bronze Star in Vietnam. After graduating from Princeton University and the University of Virginia Law School, he worked as an assistant U.S. Attorney in San Francisco and then Boston, eventually becoming acting U.S. Attorney in Massachusetts in the late 1980s.
Following a stint at a Boston law firm, Mueller moved to Washington, becoming chief of the Justice Department's criminal division in 1990, where he oversaw prosecutions of former Panamanian strongman Manuel Noriega and the Pan Am Flight 103 attack.
Mueller left a lucrative partnership at the Boston law firm of Hale & Dorr in 1995 to become a homicide prosecutor in the U.S. Attorney's office in Washington, D.C.
In 1998, when the U.S. Attorney's office in San Francisco was in disarray, Cristina Arguedas, a San Francisco defense attorney who sparred with Mueller frequently as a public defender when he was a young prosecutor in the Bay Area, recommended Mueller to Senator Barbara Boxer, a California Democrat, for the position.
'Order and Discipline'
"We wanted to choose someone who could bring order and discipline to the office, and could be trusted by both sides," Arguedas recalled.
After three years in San Francisco, Mueller was confirmed as FBI director and started work on Sept. 4, 2001, one week before terrorist attacks on New York and Washington shifted the bureau's focus toward counterterrorism and national security.
Following the Sept. 11 attacks, the FBI's expanded duties in counterterrorism brought Mueller into close contact with Comey, the U.S. Attorney in Manhattan at the time, and Comey's successor, David Kelley.
"Bob is one of most respected figures in law enforcement," said Kelley, now a partner at Dechert LLP. "When you talk about pursuing a case without fear or favor, he's lived by that for decades."
National Security
Mueller's 12 years at the FBI were marked by resource struggles, as the bureau redirected many of its agents from white-collar crime to national security without any significant budget increases.
Mueller was a gruff manager who avoided publicity -- unlike Comey, who enjoyed a good reputation in the media and who spoke out on issues from increased police scrutiny to the need for the FBI to hire a more diverse workforce.
At WilmerHale, Mueller served as "settlement master" for lawsuits against German automaker Volkswagen AG following revelations that its diesel engines had been rigged to pass U.S. inspections.
"He seems to have an unerring sense for preserving the integrity of the process, as to what can and should be shared and what shouldn't be," said Elizabeth Cabraser, lead attorney for plaintiffs in the VW diesel cheating litigation. "Given the current climate, someone that has that demeanor and is willing to keep that distance while an investigation is unfolding is essential."
Mueller can come off as taciturn, in contrast to Comey. "He's not a chatty person and he is not a glad-hander," said Cabraser. "And so maybe, from a political perspective, someone may perceive a warmth and hugginess deficit, but I don't think that's relevant at all to the rigor of an investigation, or to impartiality or to transparency where it matters."
Michael Chertoff, who worked with Mueller at the Justice Department and later served as a federal appeals court judge and as Homeland Security Secretary under Bush, describes him as "fair but no-nonsense."
As for the media, which has been thirsting for details on the Russia probe, Chertoff has a warning: "He's not someone who's going do a lot of talking to the press."
— With assistance by Kartikay Mehrotra
Before it's here, it's on the Bloomberg Terminal.
LEARN MORE