Mnuchin Says Trump Has Made His Pick for Key Banking Regulator
By and
Treasury secretary says unnamed OCC candidate is being vetted

Naming of interim chief wasn't done to evade scrutiny, he says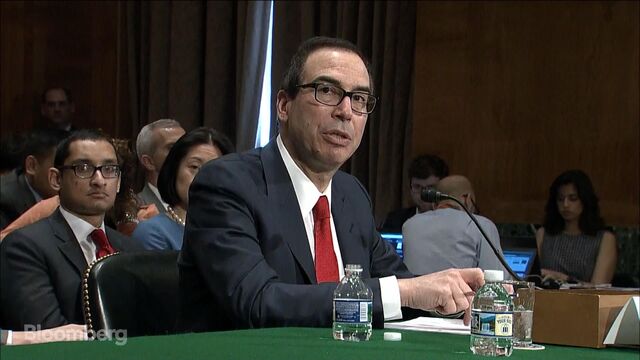 President Donald Trump has selected a candidate to be permanent head of a key Wall Street regulator, Treasury Secretary Steven Mnuchin said Thursday.
Responding to criticism over the department's appointment of a banking-industry lawyer as acting comptroller of the currency, Mnuchin told members of the Senate Banking Committee that Trump's prospective nominee is going through what may be a lengthy vetting process. Mnuchin didn't name Trump's pick.
Democratic Senator Chris Van Hollen of Maryland pointedly questioned the Treasury secretary over his move to install Keith Noreika as interim head of the Office of the Comptroller of the Currency, using an unusual maneuver to hand him the reins of the agency as a temporary employee while avoiding some of the standard ethics requirements of government appointees and the usual vetting of senior officials.
"We actually have someone who the president has approved that's going through the FBI vetting process," Mnuchin said at a hearing. Naming Noreika was "in no way an attempt to put someone in who wouldn't be going through" vetting, he said.
While Mnuchin didn't identify who would get the permanent post, he has recommended Joseph Otting, who was chief executive officer of OneWest Bank when Mnuchin was chairman of the company, according to people familiar with the matter. If Trump nominates Otting, it could be months before he wins required Senate approval. Reviews for all potential nominees has been "a time-consuming process," Mnuchin said.
Scolding Letter
Van Hollen, who led Democratic senators in sending a scolding letter to Mnuchin about Noreika's appointment, said at the hearing that the move "evaded Senate confirmation." A response letter from Treasury sent Wednesday to Van Hollen and several other lawmakers, reiterated that Noreika will "adhere to the same comprehensive ethics and conflict of interest rules as all OCC employees."
Noreika, who was initially appointed as a top deputy at the OCC, automatically became interim head of the agency after Obama administration appointee Thomas Curry was ousted. In his first speech as head of the agency, Noreika told staff members to look for opportunities to reduce unnecessary burdens on banks.
A longtime financial-services lawyer, Noreika has said he's planning to stay in the job until he's replaced by a Senate-confirmed comptroller. As a temporary "special government employee," he's allowed to serve in the post up to 130 working days, which could take him into mid-November.
Before it's here, it's on the Bloomberg Terminal.
LEARN MORE