politics
May's Government Hasn't Estimated Cost for Immigration Pledge
By
Premier vows to cut net migration to tens of thousands

'It isn't going to cost billions of pounds,' Fallon says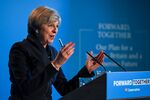 The U.K. government hasn't calculated the cost of meeting its pledge to reduce net immigration to the tens of thousands, Defense Secretary Michael Fallon said Thursday.
Prime Minister Theresa May kept the longstanding position in her Conservative party's program for government on Thursday, with three weeks to go until the snap general election she called last month. That's despite failing to come close to meeting the target during her six years as home secretary under David Cameron's leadership. Annual net immigration passed 300,000 at the end of 2014, and stood at 273,000 in the year through last September.
"We've not costed it because we don't know specifically what year we're going to reach that point of reducing to exactly tens of thousands," Fallon said in a BBC television interview late Thursday. "It isn't going to cost billions of pounds."
The failure to provide any cost estimate on their policy opens the Conservatives up to criticism from the opposition Labour Party, which published a separate document of policy cost estimates alongside its own manifesto Tuesday. That didn't stop the Tories from accusing Labour of having a 58 billion-pound ($75 billion) financial black hole in its plans.
The Office for Budget Responsibility, the government's independent adviser, published projections in January for growth scenarios assuming different levels of migration. Under a "high" net migration scenario of 265,000 a year, it projected annual growth of 2.2 percent over the next decade, versus 2 percent per year under a scenario with net migration averaging 105,000 annually.
The Tories are the only major party to put a numerical target on net immigration, which May has said is an underlying cause for Britain's vote last year to leave the European Union. Fallon pointed to a Tory pledge to double a charge on companies hiring foreign workers as evidence the government is looking to allay the costs of reducing immigration.
"We've set out today the additional change we're going to impose on British companies when they are employing other workers where British people could be taking those jobs," he said. "So we will be ensuring that there is some payment towards those costs."
Before it's here, it's on the Bloomberg Terminal.
LEARN MORE