Justice Official Knew Trump Would Fire Comey, Senators Say
By , , and
Rosenstein learned of president's plan day before writing memo

Justice official held private meeting with U.S. senators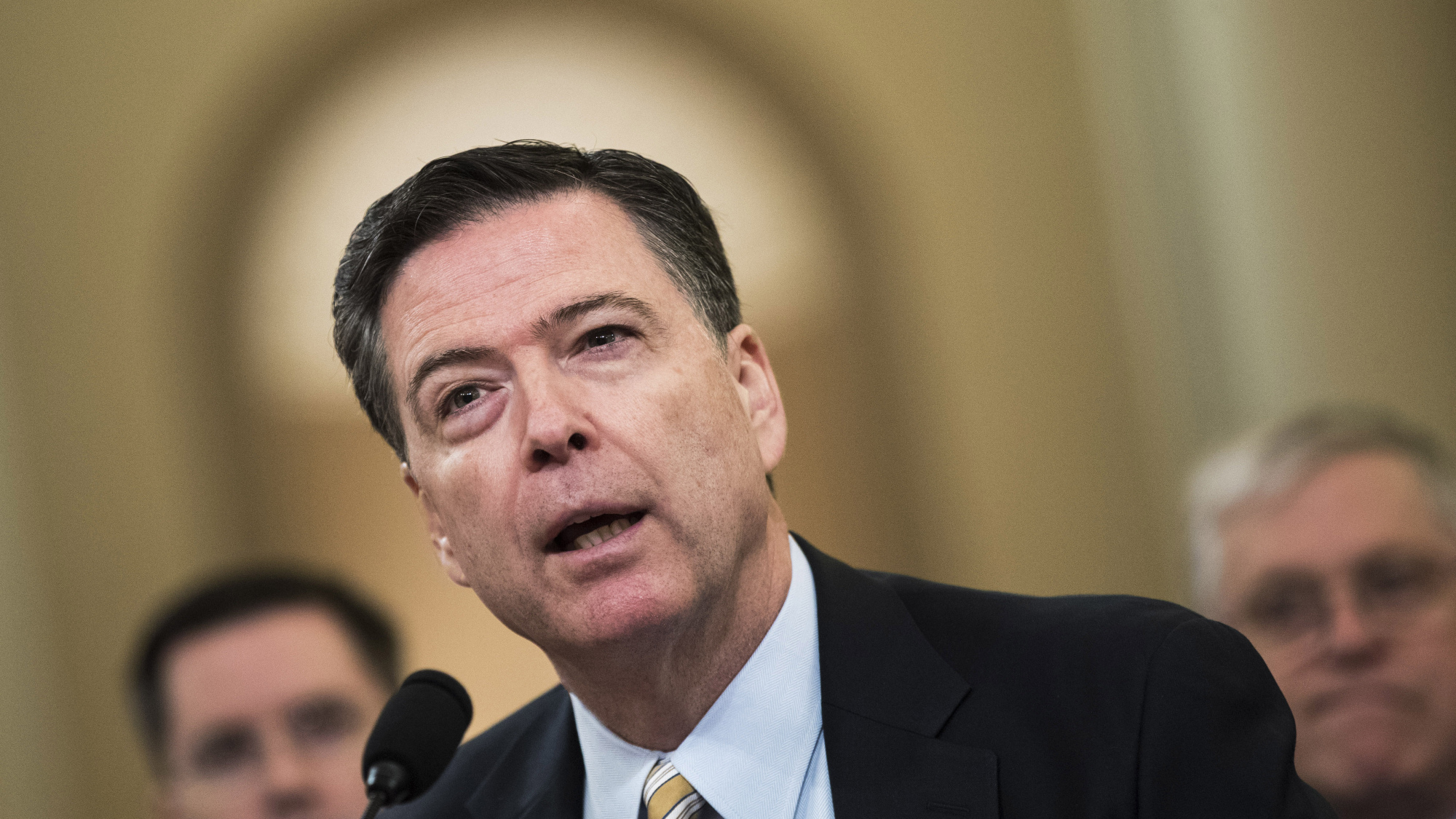 Deputy Attorney General Rod Rosenstein told senators he knew President Donald Trump planned to fire FBI Director James Comey before he wrote his memo criticizing Comey's actions, two senators told reporters Thursday after a private meeting with the official.
Trump told Rosenstein that Comey "had to go," said Illinois Democrat Dick Durbin after leaving the all-senators meeting. "He learned of the president's decision to fire him and then he wrote his memo with his rationale," Durbin said. 
Rosenstein didn't tell lawmakers who told him to write the memo, which was dated May 9, the day of Comey's firing and one day after Rosenstein's conversation with Trump, according to Durbin. Democratic Senator Claire McCaskill of Missouri also told reporters that Rosenstein said he'd learned Trump planned to dismiss Comey before writing his memo.
Rosenstein, who was confirmed as deputy attorney general less than a month ago, wrote the memo that the Trump White House initially cited as the rationale for Comey's firing. The memo harshly criticized Comey's handling of an investigation of Hillary Clinton's emails. Trump later told NBC that he was going to fire Comey no matter what Rosenstein and Attorney General Jeff Sessions had recommended.
QuickTake Q&A: Unwinding the Twists, Turns in Trump-Russia Probe
Trump said at a news conference Thursday that he had thought the firing would be a popular action, and that his decision was at least party based on Comey's "poor performance" in testifying before Congress a few weeks earlier.
"I believe that's why the deputy attorney general went out and wrote his very, very strong letter," Trump said.
Instead of being a popular decision, the firing was met by a tsunami of criticism by Democrats because as FBI director, Comey oversaw the investigation of Russian meddling in the U.S. election and potential ties to Trump's campaign.
Republican Senator Lindsey Graham of South Carolina told reporters that it appears the FBI investigation is turning into a criminal investigation rather than a counterintelligence probe. Rosenstein on Wednesday appointed former FBI Director Robert Mueller as special counsel to oversee the investigation.
Democratic Senator Richard Blumenthal, a former Connecticut attorney general, told reporters, "The special prosecutor is doing an investigation of criminal allegations that are extremely serious, including possible obstruction of justice."
'Mueller's Lane'
That appointment will impede congressional committees' ability to conduct their own investigations, said Graham. Lawmakers will have to be "leery of crossing into Mr. Mueller's lane" by seeking information from people facing possible criminal liability, the senator said.
But Senate Minority Leader Chuck Schumer and the Senate Intelligence Committee's top Democrat, Mark Warner, insisted that shouldn't keep Comey from testifying before Congress about his firing, as many lawmakers have demanded.
The need for Comey "to testify in public soon is as great as ever," said Schumer, a New York Democrat. Warner of Virginia said Comey's testimony should come "sooner rather than later."
Graham said that if he were Mueller, he would "jealously guard the witness pool," making it less likely that Comey will testify before congressional committees about his firing. "So one of the big losers in this decision is the public," Graham said.
'Witch Hunt'
Graham also had some advice for Trump, who wrote on Twitter Thursday morning that the appointment of a special counsel amounted to a "witch hunt."
"Honor that decision, cooperate where it is appropriate, fight back where you have the legal ability to do so," Graham said. "If I were the president I would focus on defending the nation."
Thursday's meeting was proposed by Schumer last week after Trump fired Comey. Mueller served as FBI director for 12 years until Comey succeeded him in 2013. Lawmakers of both parties have praised Muller's integrity and the decision to make him special counsel.
"I didn't hear anything classified" during the briefing, Graham said. Still, he said, "A lot of people in the room were shocked" to learn that the appointment of a special counsel will limit Congress's ability to investigate.
Senator Chris Murphy, a Connecticut Democrat, said Rosenstein wasn't prepared to outline other circumstances surrounding the firing of Comey out of his belief that it could come within the territory of Mueller's investigation.
"That was a consistent statement of his throughout," Murphy said.
Democratic Criticism
Many Democrats earlier had sharply criticized Rosenstein for writing the memo the Trump White House initially used to justify Comey's firing. After the briefing, California Democrat Kamala Harris was asked if Rosenstein's integrity was compromised by writing the memo after he knew Comey would be fired.
"I think so," said Harris, a former prosecutor.
Congressional panels have been seeking recordings, transcripts and memos, including the memo Comey is said to have written stating that Trump asked him in February to stop the investigation into the president's fired national security adviser, Mike Flynn.
"People have to understand that now that we've handed it off to a special counsel that that's where most of the questions are going to have to be directed," said Senator John Thune of South Dakota, the third-ranking Republican.
Rosenstein plans to brief members of the House at a closed-door meeting Friday.
— With assistance by Arit John, Jennifer Epstein, and James Rowley
Before it's here, it's on the Bloomberg Terminal.
LEARN MORE