Iran's Rouhani Is on Course for Landslide Election Win
By , , and
Rouhani ahead with about 57% of votes, Raisi is distant second

Final results are expected Saturday: Interior Ministry
Iranian President Hassan Rouhani was on course for a landslide victory giving him a second term in office, a result that would deal a blow to hardliners seeking to derail his policies of a greater engagement with the world.

Preliminary results of the four-man race showed Rouhani well ahead of hardline rival Ebrahim Raisi, winning about 57 percent to Raisi's 39 percent, with almost 40 million votes counted, according to state-run Press TV, which described the results as "almost final." The Interior Ministry is set to announce the outcome later on Saturday.
A victory for Rouhani would strengthen his domestic mandate to integrate Iran with the global economy. Yet the extent of his success would depend on the cooperation of the Iran's conservative establishment, led by Supreme Leader Ayatollah Ali Khamenei, who implicitly supported Raisi during the campaign. It will also depend on actions taken by U.S. President Donald Trump, who arrived on Saturday in Saudi Arabia for talks expected to focus on ways to contain the Islamic Republic's regional influence.
Echoing recent elections around the world, the campaign centered on populist claims that ordinary people were being left behind. The race was transformed by the April entry of Raisi, whose background spurred speculation he was being groomed as an eventual successor to Iran's ultimate arbiter, the 77-year-old Khamenei.
"I voted out of concern that a no-show would benefit Raisi," said Milad, who headed to a polling station in downtown Tehran late on Friday. "His presidency would drag us back to the past."
"Iranians and Iran just started gaining respect in the world under Rouhani and the economy is doing slightly better," said the 35-year-old, who declined to give his surname. "Even if there's a long path ahead it's at least in the right direction."
Lines at several major polling stations across Tehran spilled into the streets until late in the evening, prompting the Interior Ministry to extend voting hours three times. Higher turnout has traditionally benefited the more moderate candidates whose backers have been disappointed in the past with the pace of social and political reforms in the country.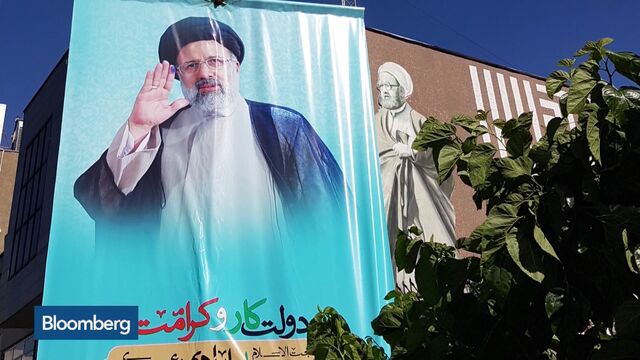 "This election boils down to a fundamental choice between two priorities," said Ali Vaez, a senior Iran analyst at the International Crisis Group. "The supreme leader is paving the ground for his succession," he said, "while a frustrated Iranian youth is seeking jobs and a move away from crisis to normalcy."
Whoever wins will be faced with a more confrontational Trump, who has described the 2015 Iran nuclear deal as a "disaster" and imposed new punishments over the country's missile program on the eve of balloting.

Opinion Polls
Most opinion polls have showed Rouhani, 68, ahead of his main challengers but short of the 50 percent support he'll need to win in a first round. But as the field narrowed and conservatives rallied behind a single candidate -- 56-year-old Raisi -- analysts saw a tight race.
Rouhani and Raisi have very different answers to Iran's challenges. Rouhani advocates the foreign investment promised by the nuclear deal but which has been held up by concerns over remaining punitive sanctions. Raisi and his fellow conservatives have lambasted the rule of an elite "four percent," and said they'd expand subsidies and focus on domestic industry.
Read More: Iran's Election Holds Key to Much More Than Just the Presidency.
"The business community, especially the private sector, is for Rouhani's re-election for the simple reason that we need continuity and consistency," said Cyrus Razzaghi, president of Ara Enterprise, a Tehran-based consultancy. Executives "expect him to be bolder in terms of tax reform and trade liberalization" in a second term, he said.
Campaign Attacks
In a series of stump speeches, Rouhani attacked hardliners over their opposition to greater personal freedoms, corruption and conservative-controlled institutions that don't pay tax.
The campaign polarized the electorate, pitting pious traditionalists who shun stronger ties with the West against a middle class that wants a less repressive society and sees foreign investment as a springboard to better jobs.
The Economy: Rouhani Could Lose Iran Presidency -- Seven Charts Illustrate Why.
A Rouhani second term would allow Iran to present its "best face" and protect the nuclear deal by driving a wedge between the U.S. and other signatories, said Vaez at Crisis Group. But there's a risk for conservative diehards that "Rouhani, who doesn't share Ayatollah Khamenei's vision for the future of the revolution, could influence the succession."
— With assistance by Dana Khraiche
Before it's here, it's on the Bloomberg Terminal.
LEARN MORE