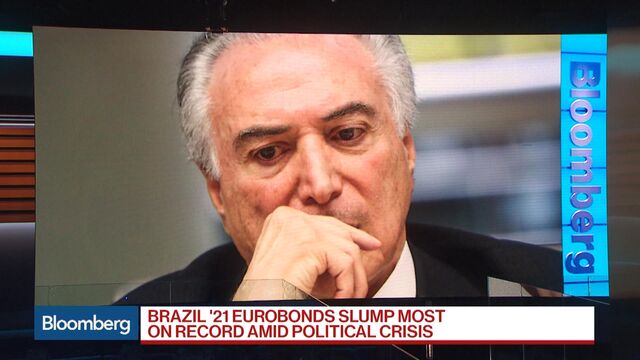 Brazil's latest crisis has deep roots. The allegation of secret payments approved by President Michel Temer is the latest development in Operation Carwash, a sprawling corruption probe that has implicated many of Brazil's business and political elite and helped bring down Temer's predecessor, Dilma Rousseff. Odebrecht SA, Latin America's biggest construction company, and an affiliate, agreed to pay the largest corruption penalty ever levied by global authorities -- more than $3.5 billion -- to resolve bribery allegations involving Brazil's state-run oil company, Petrobras. Now it's Temer, who denies wrongdoing, facing calls for impeachment and resignation, which have sent the value of Brazilian assets tumbling, roiling global markets.
1. What's Operation Carwash?
It's the nickname for a criminal probe led by Brazil's federal police that began in 2014. It's uncovered a kickback and corruption scandal involving Petrobras and the building companies that are among the nation's biggest political donors. Prosecutors say construction companies formed cartels to win inflated contracts at Petrobras, giving kickbacks to executives and politicians.
2. Why 'Carwash'?
The name comes from the preferred money-laundering location -- a Brasilia gas station -- used by black market currency trader Alberto Youssef, who disclosed the kickback system to law enforcement while being interrogated after an arrest.
3. How was Rousseff involved?
She was impeached and removed from office in 2016 for breaking the country's budget laws by doctoring accounts to minimize the size of the deficit. While those charges didn't directly involve Carwash, her public image suffered as several close allies in were caught up in the probe. Her political mentor and predecessor as president, Luiz Inacio Lula da Silva, is on trial, facing corruption charges. And Rousseff chaired the Petrobras board from 2003 to 2010.
4. Was Temer involved?
Until now, the Carwash scandal had skirted Temer but never directly implicated him. In testimony that a Brazilian court released in mid-April, a former construction company executive said he paid a $40 million bribe to Temer's party in exchange for a Petrobras construction contract. Temer denied the charge. Allegations of interference with the Carwash investigation led several cabinet members to resign in the early weeks of Temer's government. Now, O Globo newspaper reports that executives from JBS, a meat-packing company, have submitted a tape to the Supreme Court of a secret recording of Temer approving payment to Eduardo Cunha, the now-jailed former speaker of the lower house of Congress.
5. How did Temer respond?
The presidential press office was quick to deny any wrongdoing, saying "President Michel Temer never requested payments" to silence people. Temer, whose political career spans half a century, said through his office that a "deep and wide investigation" was needed into the media claims. Legislators from five opposition parties called for Temer's resignation, and at least one has already filed for impeachment hearings against the president.
6. How likely is that?
For Congress to initiate proceedings, Rodrigo Maia, the leader of the lower house and Temer's ally, would have to sign off on the move. Even then, it would trigger a lengthy process involving several rounds of voting in both houses that require two-thirds majorities to find Temer guilty of wrongdoing. In the case of Rousseff, the entire process took eight months. Temer could file appeals at the Supreme Court at any stage. And even if Temer resigns or is impeached, Congress would elect an interim president until the next scheduled vote in October 2018. An early election could only be held with a constitutional amendment approved by lawmakers.
7. Anything else to watch for?
If the past 18 months is anything to go by, more surprises await. Some analysts say that Brazil's top electoral court, which is investigating irregularities in campaign financing during the 2014 presidential elections, could decide to scrap the results of that vote. It's never happened before, but if the court nullifies the 2014 vote, Brazil's constitution states that Congress must elect a new president within 30 days. The court is slated to resume hearing testimony in the case in coming days.
The Reference Shelf

Before it's here, it's on the Bloomberg Terminal.
LEARN MORE