politics
A Guide to May's Britain and What Her Manifesto Means for Business
By , , and
From executive pay to energy caps, Tories turn interventionist

Foreign buyers can expect greater scrutiny in takeover bids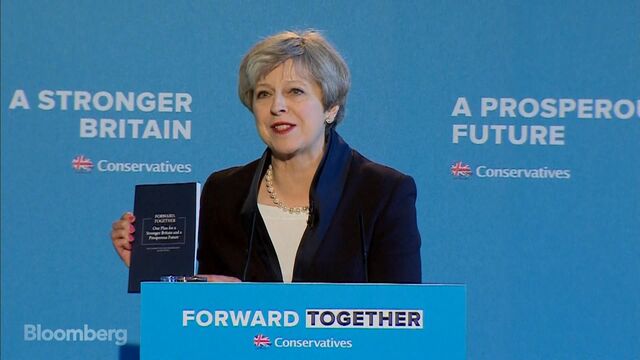 Defining herself as the champion of "ordinary, working people," Prime Minister Theresa May delivered a manifesto that broke with the Thatcherite ideology of the past and sought to redefine Conservatism.
The 84-page document painted the picture of what Mayism will look like by displaying an interventionist streak that challenged Tory assumptions that free-market and deregulatory policies are the way forward. Here is a list of measures most likely to affect the world of business and industry.
1. Immigration Cuts
What it says: May confirmed her party's target to cut immigration to the "tens of thousands" and will double the levy charged to companies hiring skilled migrant workers to 2,000 pounds ($2,600) a year by 2022.
What it means: This won't go down well with companies concerned about their ability to recruit global talent. Pret a Manger has already complained it cannot hire people fast enough and relies on non-British staff. There is also an economic impact: The Office for Budget Responsibility predicted in November that cutting immigration would slow growth.
2. Private Pensions
What it says: Higher penalties for those who mismanage company pension plans and, in extreme cases, the right to stop takeovers that threaten the solvency of a plan.
What it means: May wants to avoid another scandal like that of department store BHS's pension fund where thousands of pensions were put at risk.
3. Mergers & Acquisitions
What it says: Greater scrutiny of takeovers, requiring bidders to be clear about their intentions from the outset of the process. The government will be able to legally enforce promises and undertakings made and can require a bid to be put on hold. For national infrastructure industries, measures to ensure essential services aren't undermined by foreign ownership of companies.
What it means: Buyers may find it harder to push a deal through. Tax inversions, which were already on the decline, could also go down further. A pledge to scrutinize deals in high-profile areas such as telecommunications, defense and energy may put off foreign buyers looking at the U.K.
4. Boards, Executive Pay
What it says: Worker representation on company boards, requirement for companies to publish pay ratios of chief executive officers versus ordinary workers. It also promises a review of share buybacks to ensure these can't be used to inflate executive pay.
What it means: These measures are unlikely to please many companies. Employees will have the opportunity to ask questions about company strategy, which may not sit well with some management teams. Other options will include creating worker councils or having one director focused on worker issues. There's no proposal on how to narrow corporate wage disparity, and executive pay is already subject to annual votes.
5. Energy Caps
What it says: A promise to deliver competitive and affordable energy costs following a new independent review. Backing diverse sources of energy in Britain, including supporting the development of wind projects in remote Scottish islands.
What it means: The idea of a cap marks a shift toward a more interventionist government and has already drawn criticism from energy companies that say it will reduce competition and reduce choice, potentially leading to higher average prices. While the manifesto reaffirms support for offshore wind projects, it bans large-scale onshore wind entirely in England.
6. Sovereign Wealth Funds
What it says: Creation of so-called Future Britain Funds for investment in infrastructure and the economy. Early funds will come from shale gas extraction, dormant assets and the sale of some public assets.
What it means: The shale industry is still far from generating any revenue. Developments in the industry are nowhere close to what the country needs to replicate U.S. success in exploiting shale gas reserves using fracking. So generating those early funds could still be some years away.
7. 'Gig Economy'
What it says: Increasing protection for people in jobs such as driving, delivering and coding who tend to work flexible hours but have few to no rights from their employers. A Tory government will wait for the findings of the Matthew Taylor report but the manifesto broadly pledges adequate protection on things like paid sick and holiday leave.
What it means: For companies like Uber Technologies Inc, this could be a game changer as the bulk of the people they hire do not enjoy benefits of full-time employees.
8. Social Media Tax
What it says: A law that allows the government to impose a levy on social-media companies and communications providers to make the internet a safer place for young people. The tax is part of a broader proposal to protect data privacy and tackle cyber security.
What it means: While the fees are described as similar to the existing tax on the gambling industry, it offers no detail on which companies would be affected or the amounts in question. A levy could set a precedent for other countries amid a global push by companies, governments and the public to tackle hate speech and online bullying.
— With assistance by Rakteem Katakey, Nate Lanxon, and Ruth David
Before it's here, it's on the Bloomberg Terminal.
LEARN MORE