May's Bid to 'Mainstream' U.K. Voters Offers Hard but Fair Life
By , , and
May's rhetoric contrasts with Cameron's promise of 'good life'

Prime minister rejects Thatcherism in quest for 'fairness'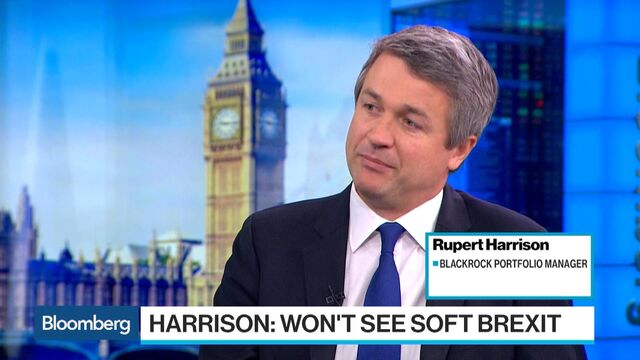 In 2015, David Cameron promised the British people a "good life." In 2017, in the wake of the Brexit vote, Theresa May could only offer a hard -- but fair -- life.
The prime minister's election manifesto contained no promises to keep taxes down, as her predecessor had two years earlier. Where the man who called -- and lost -- the Brexit vote had pledged a cap on elderly-care costs, May told wealthier pensioners they'd have to pay.
In part, there is a shift in circumstances: Leaving the European Union will involve some pain, with the fall in the pound already pushing price inflation above wage rises. But Brexit has also given May a chance to take the Conservatives into a new direction.

Cameron wanted to turn Tories into a party that metropolitan liberals could vote for. May is trying to capture the votes of the working classes.
"My mainstream government will deliver for mainstream Britain," May told supporters and reporters Thursday. "All those who work hard and make this country what it is. People who have a job but do not always have job security. People who can just about manage."
Fairness First
The problem for May is that she inherited an economy that gives her little room to offer working-class people more money. The welfare budget, which covers the working poor as well as those without jobs, is facing a squeeze.

So what she's offering them instead is fairness -- an idea mentioned 45 times in the manifesto. Her social care proposals will mean that working families aren't taxed to pay to look after pensioners whose houses have doubled or trebled in value in recent decades.
The pledge to constrain immigration, which businesses say will hurt them, is part of her bid to be seen as prioritizing what is right. May argued that it is the poorest communities that are hit most by immigration, with pressure on services and wages undercut.
"The mood music of the manifesto indicates that she is trying to move the Conservative Party beyond the Thatcherite stereotype when it comes to economic and social policy,'' said Tim Bale, professor of politics at Queen Mary, University of London.
Even so, "people said the same thing about Cameron, but when push came to shove it was all about austerity, not spending too much and not taxing too much. So I don't think we can say hand on heart that this is a paradigm shift until we've had three, four, five years of Theresa May in government."
Northern Launch
Back in 2015, the race was close. Ed Miliband's Labour party was neck-and-neck with the Tories in what polls predicted would be a "knife-edge" election. Today May's Conservatives are leading Jeremy Corbyn's Labour by as much as 20 points in the latest surveys.
That kind of advantage gives her the freedom to be ambitious, as the locations of the manifesto launches show. Cameron went for a technical college in Swindon, southern England, in a seat he needed to hold.

May picked a former mill in Halifax, 150 miles (240 kilometers) north, a seat the Tories haven't held since 1983 -- the year of Margaret Thatcher's landslide win -- but are now on course to capture.
Read more: Theresa May's Path to Victory Goes Through These Key Seats
While she is a former Bank of England employee married to a financier, she's still better positioned to make the case than Cameron for wanting to build a "Great Meritocracy."
Cameron was born wealthy, and got his first job in politics thanks to a royal connection. May, the daughter of a Church of England minister, worked her way up through the Conservative Party, standing repeatedly in unwinnable seats.
Her first months as premier saw May compared to Thatcher. That is a comparison she rejected outright in Halifax, saying her government will not "drift to the right." When asked about Mayism, she said she represented only "good, solid Conservatism." The manifesto says the Conservatives "reject the cult of selfish individualism."
For Mujtaba Rahman, Europe analyst at Eurasia Group, she succeeded in taking the party "to the center of the political spectrum."
With three weeks to go before June 8 elections, May seemed relaxed at the launch and took an array of questions -- something she has been loath to do till now.
In the early stages of the campaign, May stuck to her lines about "strong and stable" leadership, and media access was limited. Since then she's been on a TV show with husband Philip talking about domestic chores and on a Facebook session with voters.
Whatever warnings she issued about the difficulties ahead, May is burdened with the promises that some of her Conservative ministers made to voters when they were campaigning for Brexit.
In her introduction to the manifesto, the prime minister issued a coded rebuke for the way the referendum was fought. "People are rightly skeptical of politicians who claim to have easy answers to deeply complex problems," she wrote. "It is the responsibility of leaders to be straight with people about the challenges ahead and the hard work required to overcome them."
Telling voters there are hard times ahead is May's style. She will find out if the forewarning is enough to protect her from voter anger if her forecasts come true.
Before it's here, it's on the Bloomberg Terminal.
LEARN MORE