Cooperman Agrees to Lighter Penalty in Deal With Trump's SEC
By and
Hedge fund titan to pay $4.9 million over insider-trading case

Accord comes after he said he had declined tougher offers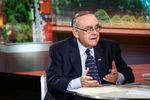 Billionaire hedge fund manager Leon Cooperman described his battle against the U.S. Securities and Exchange Commission as a fight for his legacy, saying he had refused settlement offers because he did nothing wrong.
It turns out there was a price he was willing to pay to put an end to the agency's insider-trading allegations: $4.9 million, along with no impact on his ability to keep running his hedge fund.
The SEC's most prominent insider trading settlement since President Donald Trump took office excludes one of the agency's harshest forms of punishment. In October, people familiar with the regulator's position said it was demanding Cooperman accept a temporary bar from the industry -- a measure that can ultimately be costlier for investing professionals than monetary penalties.
Cooperman and his firm, Omega Advisors Inc., will pay a fine and return ill-gotten gains, according to a filing in a Pennsylvania federal court. The agency originally accused him of reaping more than $4 million on trades at issue. He didn't admit any wrongdoing in the settlement.
"I look forward to putting this matter behind me, with no restriction on my ability to invest and manage client assets, for much less than it would have cost to continue defending the case," Cooperman said in an emailed statement.
Enlisting Monitor
Still, the settlement requires Cooperman to let an independent compliance consultant monitor his business with access to trading records and electronic communications until 2022. The agreement "protects against future violations," Stephanie Avakian, the SEC's acting enforcement director, said in a statement posted on the regulator's website.
The SEC sued in September, accusing Cooperman of using his status as one of Atlas Pipeline Partners GP LLC's largest shareholders to obtain confidential information from an unnamed executive during telephone calls in July 2010. Cooperman hasn't been charged with criminal wrongdoing.
After the SEC filed its case, Cooperman sent a letter to his investors stating that he wouldn't let the government destroy a reputation he had built up over five decades. Cooperman said he could have settled the matter for less than he annually donates to charity, but declined because he "acted appropriately and lawfully."
Under former SEC Chair Mary Jo White, the agency had asked Cooperman to pay about $8 million and agree to a temporary suspension from managing money for outside clients, people familiar with the matter said at the time. The terms of the settlement reached with the SEC under chairman Jay Clayton, who was nominated by Trump, extracted less money without an industry bar.
Criticizing Obama
At a hearing in February, Cooperman's lawyers argued that the case was the first by the SEC to focus on the timing of the disclosure. His lawyers said Cooperman was under no obligation to refrain from trading following his calls with the executive because any purported promise he made came after he had already received the information.
Read more: Cooperman's rise from the Bronx to Goldman to SEC Target
Cooperman, 74, has a net worth of $2.3 billion and is a fixture in financial and philanthropic circles. The son of a plumber, he bootstrapped his way from the South Bronx to become one of the deans of the hedge fund industry, founding Omega Advisors in 1991 after a 25-year career at Goldman Sachs Group Inc. He has long celebrated value investing, and in recent years was an outspoken critic of President Barack Obama and Trump's campaign rival, Hillary Clinton.
Cooperman's firm, which manages $3.5 billion, is among the oldest in the industry. The SEC case has taken a toll on his firm, as it oversaw about $5.4 billion at the time of the September lawsuit.
— With assistance by Benjamin Bain
Quotes from this Article
Before it's here, it's on the Bloomberg Terminal.
LEARN MORE