markets
Comey Scandal Unraveling Trump Bump, Guggenheim's Minerd Says
By
Controversies mean big hurdles for the president's agenda

Manager's fixed-income outlook urges caution amid complacency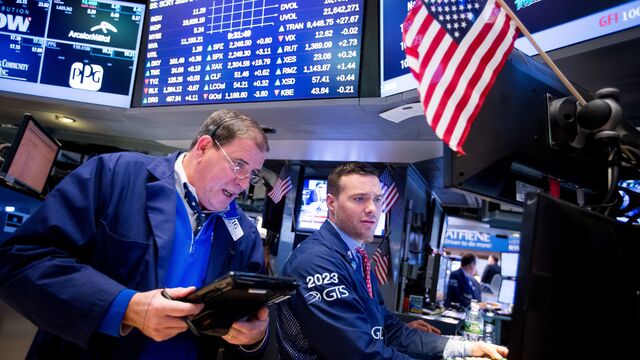 The biggest stock market drop in eight months marks the end of the so-called Trump rally rather than the type of plunge that would accompany the president's ouster, according to Guggenheim Partners Chief Investment Officer Scott Minerd.
"We have no indication now that this is Watergate," Minerd, who oversees more than $260 billion, said Wednesday at a Bloomberg LP-sponsored forum on fixed-income investing in Beverly Hills, California. "But at this stage in Watergate, we had no idea it was Watergate."
U.S. stocks lost roughly 40 percent during the Watergate corruption scandal between early 1973 and the market's low point after the resignation of President Richard Nixon the following year.
In Wednesday's trading, bonds rallied and U.S. stock markets had their largest decline since September amid turmoil engulfing President Donald Trump's administration. The Dow Jones Industrial Average plunged 372 points, or 1.8 percent, on the day but is still up 12 percent since Trump's Nov. 8 election.
Minerd, who serves on an investor advisory committee to the Federal Reserve Bank of New York, said he got a call from a Fed official earlier in the day asking about his reading of the market plunge, an indication the central bank is concerned about the potential impact of scandals involving Trump.
Legislative Challenge
"The Comey memo is the first time that we have any sort of potential direct implication of bad acts by the president or the administration," Minerd said, referring to news reports about fired FBI Director James Comey's notes alleging that Trump had asked him to drop a probe of former National Security Advisor Michael Flynn.
Guggenheim has a long-term positive outlook on the global economy, based on stabilization in China, European recovery and rising U.S. corporate earnings, Minerd wrote in a note released Tuesday. Still, tight spreads on a range of debt -- corporate bonds, bank loans, structured credit and mortgage-backed securities -- could be setting the stage for more volatility, he wrote in the fixed-income outlook titled "A Time for Caution in Complacent Markets."
The controversies will make it hard for Trump to get Congress to approve tax reform, infrastructure spending and other programs that propelled markets higher after the election, Minerd said Wednesday.
"Markets may come to realize that the Trump rally is long on promise and short on delivery," Minerd wrote in the Tuesday note. "The best strategic direction for our portfolios in the medium term is to position for a flattening curve, with a positive view on credit performance, but a conviction to wait for more attractive levels to take on more risk."
Minerd's $6.1 billion Guggenheim Total Return Bond Fund, which invests in mortgages and other fixed-income products, has averaged 5.7 percent annual returns over the past five years, outperforming 97 percent of its peers, according to data compiled by Bloomberg.
In other market comments, Minerd said:
Fed Chair Janet Yellen will probably lay out a plan in September to begin the unwinding of the central bank's Treasury and mortgage-backed securities holdings, giving her time to put the process in place before the end of her term next year. He expects the drawdown to begin gradually at about $10 billion a month.
He expects the yield curve to flatten and said 30-year Treasuries are appropriately priced at about 3 percent.
— With assistance by Vincent Bielski
Before it's here, it's on the Bloomberg Terminal.
LEARN MORE