Citigroup Says It's Time to Sell the Dollar for the Summer
By
Smaller, riskier currencies seen by Citi as playing catch-up

Turmoil has helped erase all election-related dollar gains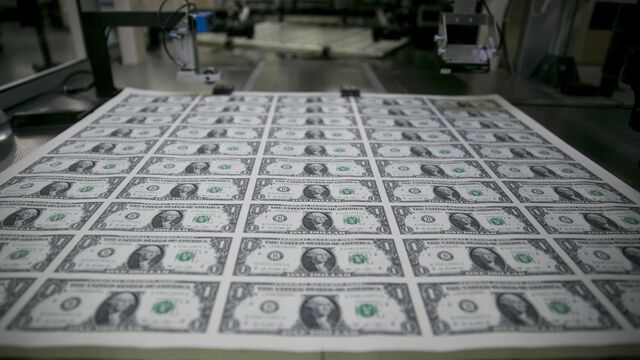 There's a silver lining for President Donald Trump while he's facing the toughest moment of his presidency: he's getting his wish when it comes to a weaker dollar.
Since his comments on April 12 when he said the greenback was too strong, the Bloomberg Dollar Spot Index has fallen 3.1 percent, with a solid chunk of that coming in the past couple of days following the disclosure of a memo from former FBI Director James Comey and a probe into links between the Trump administration and Russia. According to analysts at Citigroup Inc., there's more room for the dollar to fall.
"The better trade on the appointment of a special counsel to investigate Trump/Russia ties is to position for broad-based U.S. dollar weakness as opposed to a concentrated 'risk-off' move," the team, led by Todd Elmer, wrote Thursday. "This runs counter to price action seen over the past 48 hours as focus on U.S. politics has heated up, so we believe the modest underperformance seen from some small and risky currencies likely represents a buying opportunity."

Back in January, the index rallied more than 5 percent as market participants expected a number of Trump's policies, such as more infrastructure spending and tax reform, to give the greenback a boost. Since then, the index has given back all of it's gains.
After falling 0.5 percent on Wednesday on the back of more political uncertainty in D.C., the U.S. dollar is strengthening, but Citigroup doesn't expect that to last for long.
In the note sent out to clients, the world's biggest currency trading firm went on to say that some of this is already reflected, but continued erosion in expectations for policy changes in D.C. will lead to further weakening of the greenback.
"Investors had already moved to better discount a slower pace of policy reform following the initial Trump rally in asset markets late last year, so this should partially be in the price," they write. "However, in and of itself, this should not be a dollar-positive factor, so we believe this further expands the window for dollar weakening over the course of the coming summer months."
Before it's here, it's on the Bloomberg Terminal.
LEARN MORE