markets
Caxton Chairman Who Fought Brexit Now Funds May's Push to Leave
By
Andrew Law gives 250,000 pounds to Theresa May's Conservatives

Hedge fund boss previously helped to finance remain campaign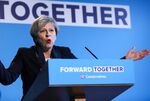 Caxton Associates Chairman Andrew Law, who backed the U.K. to remain a member of the European Union, is among several wealthy business leaders financing Prime Minister Theresa May's bid to win a stronger Brexit mandate.
The chief executive officer of the hedge fund, which oversees about $7.1 billion in assets, made a 250,000-pound ($325,000) donation to May's Conservative Party, data published by the U.K.'s Electoral Commission on Thursday show. Law had previously pledged 200,000 pounds to the official Remain campaign ahead of Britain's EU referendum last year.
May sounded a tough note on Brexit as she unveiled her manifesto for the June 8 general election, presenting herself as the champion of "ordinary, working people," ready to fight against "elites" and unafraid to shake up the rules governing business. Her party got 4.1 million pounds in donations, most from wealthy individuals.
John Griffin, former chairman of London-based taxi company Addison Lee, gave 900,000 pounds to the Conservatives in the biggest individual donation to any political party, the data show. Business leaders from former Xstrata CEO Mick Davis, CVC Capital Partners's retired co-founder Hardy McLain and Egerton Capital co-founder John Armitage were among other donors to May's party.
A spokesman at Caxton didn't immediately respond to requests for comment on Law's donation. Spokesmen for Davis and Armitage declined to comment, while Griffin and McLain couldn't be reached via their former companies.
Jeremy Corbyn's Labour party received 2.7 million pounds, almost entirely from labor unions, while the Liberal Democrats got 180,000 pounds. The U.K. Independence Party, the long-time advocate for a referendum on EU membership before former Prime Minister David Cameron called it, got 48,000 pounds.
The Electoral Commission, which records British political donations, plans to publish five more sets of pledge data. The nation's major parties must report donations and loans of more than 7,500 pounds.
— With assistance by Nishant Kumar
Before it's here, it's on the Bloomberg Terminal.
LEARN MORE