Balance of Power: Trump's New Inquisitor
By , , and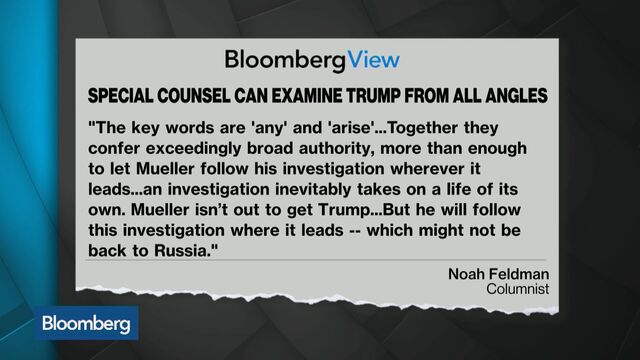 The Justice Department's sprawling probe into Russian efforts to influence the 2016 election just got a new boss. That's good news for FBI independence in the investigation.
And bad news for Donald Trump.
Former FBI director Robert Mueller was named special counsel in the Russia probe, with Trump himself only getting the news 25 minutes before it was announced. Praise for the pick was instant and bipartisan.
There are already signs that the choice is calming the chaos in Washington, which yesterday sent the S&P 500 to its lowest since September. U.S. futures showed signs of stabilizing overnight and the dollar rose for the first time in more than a week.
Mueller's writ is expansive. He can look into the original questions about Trump team relations with Russia as well as fresh inquiries into Trump's firing of James Comey, Mueller's FBI successor. The two have worked closely in the past.
That's where the bad news for Trump comes in: Not that Mueller would favor Comey, or necessarily find anything crippling for Trump, but that based on his straight-shooter reputation, he'll ask lots of questions and won't care where they lead him. Even if that's directly into the Oval Office.
Sign up to receive the Balance of Power newsletter in your inbox, and follow Bloomberg Politics on Twitter and Facebook for more.

Global Headlines
Brazil plunges back into crisis | President Michel Temer's future was thrown into doubt after O Globo newspaper reported that he was involved in an alleged cover-up involving the jailed mastermind behind Dilma Rousseff's impeachment last year. The paper said a secret recording has emerged of Temer approving a payment to Eduardo Cunha, the former head of the lower house. Temer's office denied the allegations. But Brazilian markets, which have surged over the past year on the back of Temer's economic reforms, look poised to take a hit today.
Trump campaign's ties to Russia | Trump campaign officials, including fired National Security Adviser Michael Flynn, had at least 18 contacts with Russian officials and others with Kremlin ties during the final seven months of the campaign Reuters reports, citing current and former U.S. officials. The contacts -- via phone and email -- showed no initial evidence of collusion, Reuters said, citing the officials.
Trump's economic agenda at risk | Trump's mounting political difficulties are raising doubts about his ability to push through the tax cuts and infrastructure spending that economists have been counting on to lift gross domestic product. As Rich Miller in Washington explains, the U.S. economy may remain stuck around 2 percent growth without that stimulus, instead of hitting the rates of 3 or 4 percent the president has promised.
Pence builds a war chest | As Trump's White House grapples with the fallout from the Comey affair, Vice President Mike Pence registered a political action committee on Wednesday, allowing him to channel campaign funds to Republicans in the 2018 mid-terms. Joe Biden never saw a need for such independent muscle when he was vice president and nor did Dick Cheney. Though George H. W. Bush did. When he was preparing his 1988 run for president.
Turnbull struggles to win over Aussies | Malcolm Turnbull, a former investment banker who became prime minister in 2015, must be scratching his head. Opinion polls show that Australians prefer the rival Labor party despite giving high marks for his populist budget, which boosted funds for infrastructure and schools. One good sign: He's still got two years to turn things around before the next election.
Europe views Trump with grim fatalism | European officials preparing for next week's NATO and G-7 summits are resigned to the fact that they will have to adapt to a U.S. president they see as increasingly erratic. One person told Bloomberg about the impossibility of trying to get the U.S. to engage with them in the run-up to the talks. Another said no one should run a business the way Trump runs his government. Still, with Europe hoping for progress on Russia, free trade and climate change, those frustrations will be put aside. Ultimately, nothing be achieved without the U.S. on board.
Ich liebe Deutsch | French President Emmanuel Macron demonstrated his commitment to a deeper partnership with Berlin on Wednesday, picking a cabinet stuffed with German speakers.At least six members of his cabinet speak the language of Angela Merkel, with both his premier and finance ministers having a native grasp. Even the president himself has some knowledge of the language, according to his aides, though he did use an earpiece at a joint press conference with Merkel on Monday.
And finally... Nine days ago we wondered whether markets had become too complacent as the CBEO Volatility Index - or VIX - hit the lowest since 1993. With Washington in crisis and Brazil facing another round of political turmoil, it looks like that was the case. ``Markets are very blasé about political risk until the very last moment," former Federal Reserve Chairman Ben S. Bernanke said at a conference in Las Vegas yesterday. "They go along until something happens that pulls the rug out from under their assumptions."

Before it's here, it's on the Bloomberg Terminal.
LEARN MORE