As Peace Breaks Out Colombia Fears Washington's Waning Interest
By
Colombian President Santos to meet with Trump in Washington

Santos to seek aid commitment after signing rebel peace accord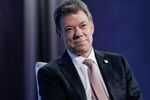 As Colombia's five-decade conflict with Marxist rebels winds down, President Juan Manuel Santos is battling to keep Washington's interest in the country that receives the greatest amount of U.S. aid in the Americas.
On Thursday Santos will hold his first meeting with President Donald Trump, who has upended long-standing U.S. attitudes to NATO, Russia, China and Mexico. Santos will argue that U.S. support remains vital as the country tries to reintegrate former guerrillas into civilian life and provide farmers with alternatives to producing coca, the raw material for making cocaine.

"President Santos is going to make a big effort to show President Trump that Colombia has been, is and will be the United States' main ally in Latin America," said Senator Jimmy Chamorro, who sits on the Colombian Senate's foreign affairs committee.
Santos's visit, however, may be overshadowed by the series of scandals currently rocking the Trump presidency. Colombians are concerned that the long-term relationship could suffer amid the "breakdown of institutional processes" in Trump's Washington, said Gabriel Silva, a former ambassador to the U.S. The U.S. has provided aid to Colombia for at least six decades, with this being dramatically stepped up after the Clinton administration's Plan Colombia counter-narcotics program.
"We knew the pattern of decision-making in Washington quite well, for decades, and suddenly that pattern has changed," said Silva, who served as Colombia's ambassador to Washington in the early nineties, and again from 2010 to 2012. "No one knows who has the access, who can really suggest or advise Trump in critical aspects such as the relationship with Latin America."
Republican Lawmakers
The Obama administration backed the peace accord between the government of Santos and the Revolutionary Armed Forces of Colombia, or FARC, which Colombia's Congress passed in November. Some Republican members of Congress, such as Florida lawmaker Mario Diaz-Balart, have criticized the deal as being too lenient on the FARC, and for allowing its leaders to run for office.
QuickTake: Colombia's Peace Plan
"Santos needs to convince Trump that the peace process coincides fully with the objectives of fighting drug trafficking, violence, and terrorism in the region," Silva said.
The Marxist guerrilla group has moved its fighters to zones monitored by the UN, where they're handing over their weapons. The "post-conflict" period of the peace process will probably last ten years or more, during which time Colombia will need ongoing political and economic support from the U.S., according to Senator Chamorro.
Many in Washington may question whether U.S. taxpayers have got value for money for the aid they've poured into the Andean nation. Two decades and $10 billion after Plan Colombia was launched, the country is growing record quantities of coca, and remains the world's biggest producer of cocaine, according to U.S. government data.
"He's going to have to explain the coca problem to a lot of skeptical members of Congress," said Adam Isacson, a Colombia expert at the Washington Office on Latin America.
U.S. aid to Colombia fell to $326 million in 2016, according to WOLA, from $732 million a decade earlier. Military aid dropped 71 percent over that period, while economic and institutional assistance rose slightly.
— With assistance by Oscar Medina
Before it's here, it's on the Bloomberg Terminal.
LEARN MORE