Wall Street Weighs In as Comey Memo Controversy Roils Markets
By and
Analysts say deepening turmoil risk delaying policy further

Caution advised given Trump's weathering of political storms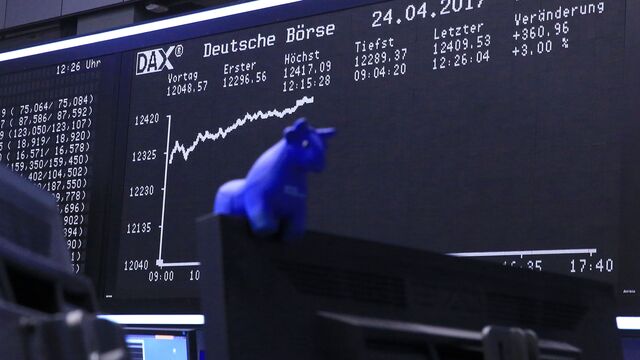 As Donald Trump faces one of the toughest moments of his presidency, Wall Street analysts are recommending that investors exercise caution before making any rash decisions.
U.S. stocks fell the most since March and Treasuries rallied with gold as investors sought havens following reports that a memo written by then-FBI Director James Comey alleges that the president asked him to drop an investigation of former National Security Adviser Michael Flynn, which could be obstruction of justice. The administration released an emailed statement denying Comey's version of events.
So far, markets have been focusing on what is playing out away from Washington, but that trend may be coming to an end as some analysts warn the post-election rally that was supported by faith in Trump's tax-cutting, deregulating agenda, might be fizzling out.
Here's a roundup of what Wall Street is saying:
Issac Boltansky, Compass Point
The Trump Trade optimism was already tempering as markets became reacquainted with the "painfully slow" legislative process, but now markets are forced to consider what valuations should look like if the administration's agenda doesn't materialize. Client questions have shifted since last night to considerations of special prosecutors, impacts on nominations, even impeachment; too early to fully contour issue's legal/political impact.
It's too early to throw in the towel on tax cuts before the midterms, but I am concerned that there could be a meaningful market reaction if these headlines persist and the House Ways & Means Committee fails to show some semblance of policy cohesion during the two upcoming hearings.
For more politics coverage, subscribe to the Bloomberg Politics Balance of Power newsletter
Peter Cecchini, Cantor Fitzgerald
"To state the obvious, this potentially throws a wrench into implementation of reflationary, pro-growth policies like infrastructure spending, tax reform, and financial deregulation. How is it then, that the reflation narrative, which was based on swift implementation of such policies and which graced almost every headline for months, is not being rebuffed with equal vigor? Both the 5-year and 10-year break evens show how quickly inflation has stalled."
Peter Boockvar, The Lindsey Group LLC
"Is this time different in terms of the new drama created by President Trump and the market reaction? I have no idea, but I do know that up until this point everything non-economic policy related has been nothing but noise and markets haven't cared one iota. Markets only care about what tax and regulatory reform will look like and that's it."
Jim Vogel, FTN Financial Capital Markets
"Financial markets sit in 'squirming' mode rather than anything that resembles real concern when it comes to daily D.C. news bulletins. Just like the first leg of the Trump trade, economic scenarios hinge on a series of future political decisions that traders can speculate about but only with limited conviction...Yes, Washington is impacting global price levels, just not driving them in a particular direction yet."
Peter Cohn, Height Analytics LLC
"Would investors really react so poorly to Trump's ouster from the Oval Office? That seems to be the initial reaction based on S&P futures. But consider the fact that the drama-free Vice President Mike Pence would assume the position with strong working relationships on Capitol Hill and knowledge of the political process from his years in the House and as Indiana Governor. Sure, tax reform could be 'delayed' by a drawn-out impeachment proceeding, but at this stage no one should be pricing in tax reform before late 2017 at the earliest as members of Congress have clearly telegraphed that the process is going to take some time."
Honglin Jiang, Credit Suisse Group AG
"At the very least, the revelation is likely to distract the administration from passage of key legislation, and undermine Congressional support required to do so. Republicans such as Jason Chaffetz, head of the House oversight and reform committee, have reportedly demanded to see the Comey memo, and threatened to issue a subpoena to do so, with Speaker Ryan's support. However, the bar for impeachment remains extremely high, with Republican majorities in Congress making impeachment unlikely without highly convincing evidence of wrongdoing.''
Before it's here, it's on the Bloomberg Terminal.
LEARN MORE