Dollar Extends Drop as Post-Election Gains Erased Amid Turmoil
by and
Euro-dollar regains November highs before ECB speakers

Yen rises most since election as Treasury yields tumble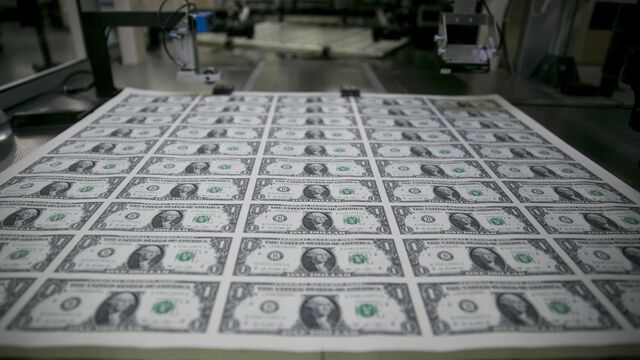 The dollar gave up all its gains since the election of President Trump, undermined by uncertainty surrounding the legislative agenda amid political turmoil that also prompted a steep fall in U.S. stocks and Treasury yields.
The Bloomberg dollar index dropped to its lowest since Nov. 9 in its sixth consecutive decline. The 10-year Treasury yield fell to a one-month low at 2.2104 percent, while the Dow Jones Industrial Average tumbled more than 300 points, tracking declines in global exchanges. Emerging-market currencies were mostly lower as the uncertainty weighed on risk appetite.

Trading flows are only moderate in the session, traders in London and Toronto said; USD losses coming at the hands of fast-money accounts while longer-term players are somewhat apprehensive about chasing the dollar drop, one London-based trader said. The dollar is lower vs eight of its G-10 peers
USD/JPY extended drop to 110.89, its lowest since April 26, amid haven demand as the 10Y UST yield sank to its lowest level for the day and as U.S. stocks remained lower. JPY seeing biggest gain since Nov. 9; also likely seeing stale cross-longs unwinding after the dollar extends its drop from last week's highs near 114.30, which were reached as U.S. rate-hike expectations rose and risk appetite fueled carry trades. JPY is higher vs all G-10 peers, with strongest gains vs CAD, AUD and USD
EUR/USD is trading near a session high of 1.1158, its highest since Nov. 9 when the currency peaked at 1.1300 before the USD began its post-election rally; the shared currency is extending its weekly gain vs the USD to ~2%
Euro gains come as traders are revising their expectations for monetary policy at the ECB. Recently improved economic data from the euro area has fueled speculation that the central bank may signal a shift in monetary policy as early as its June meeting. Traders will parse remarks from a plethora of ECB speakers on Thursday for fresh clues on the central bank's intentions. Meanwhile, odds for a Fed rate hike in June dropped to below 60%, based on 1st Fed-dated OIS
Before it's here, it's on the Bloomberg Terminal.
LEARN MORE