Your Evening Briefing
Here are today's top stories
Bloomberg News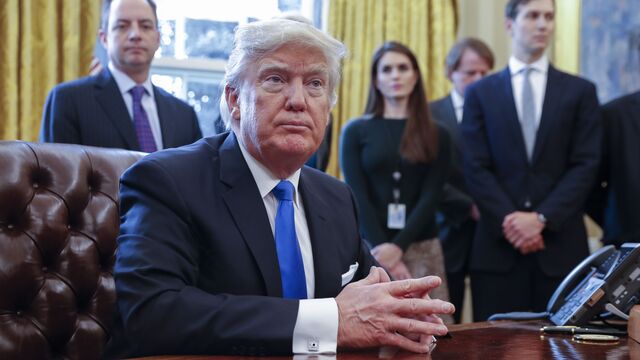 Want to receive this post in your inbox every afternoon? Sign up here.
"I think it would be helpful if the president spent more time on things we're trying to accomplish and less time on other things," Senate Majority Leader Mitch McConnell said in an interview with Bloomberg News on Tuesday, calling for "less drama" from the White House.
His comments came in the midst of reports that President Trump shared classified intelligence with Russia's foreign minister and ambassador last week. The U.S. national security adviser sought to contain the damage from the report and said the conversation in the Oval Office was "wholly appropriate." Trump claimed in a series of tweets that he has an "absolute right" to share classified information.
Later Tuesday, Turkish President Recep Tayyip Erdogan visited the White House for a face-to-face with the 45th.  –Emily Banks
The U.S. is considering broadening the airline laptop ban beyond the EU, said a Homeland Security spokesman, although he would not identify the other regions. The EU pressed the U.S. to refrain from unilaterally banning devices on flights from Europe, saying both sides need to work in tandem to curb the threat of terrorism. The intelligence Trump shared with Russian diplomats was reportedly about an Islamic State terrorist plot to use laptop computers as possible weapons on commercial aircraft.
There's a blame game brewing over the massive cyberattack that infected hundreds of thousands of computers. Microsoft is pointing a finger at the U.S. government, while some experts say the software giant is accountable, too. The hack used a technique purportedly stolen from the U.S. National Security Agency to target Microsoft's market-leading Windows operating system.
Trump should choose an "apolitical" FBI director, McConnell said in his interview with Bloomberg News on Tuesday. The Republican said he recommended that Trump choose former Supreme Court nominee Merrick Garland to replace fired FBI Director James Comey. Last year, McConnell refused to allow a Senate confirmation hearing for Garland, who was nominated by President Obama.
Mortgage tax breaks could be useless for 25 million Americans under Trump's plan. U.S. Treasury Secretary Steven Mnuchin has taken pains to stress that the Trump administration isn't out to kill Americans' beloved mortgage-interest tax deduction–but a side effect of the plan could turn it into a perk for only the wealthy. A married couple would need a home-loan balance of about $608,000 before using it would make sense.
Instagram copies Snapchat–again–with face masks. Facebook's photo-sharing app is adding another signature Snapchat feature: the ability for people to digitally add animal ears and flower crowns to their selfies. Facebook has copied Snapchat's features broadly across its social apps.
Rich retirees are hoarding cash out of fear. Younger generations aren't saving enough as their income slips further behind previous generations. Meanwhile, older Americans sit atop unprecedented piles of assets built through stock market and real estate booms. A new study finds many U.S. retirees keep saving even after they've retired.
Etiquette isn't everything. The 19th edition of Emily Post's Etiquette offers an extensive discussion of "Life Online," as well as "Open Office Courtesies," "When It's Okay to Send an Emailed Thank-you Note" (only ito someone you interact with regularly or if speed is of the essence), and "Agreeing to Disagree," aka How Not to Alienate Colleagues by Talking About Politics. Such practiced graces are all well and good, but do they really matter?
Before it's here, it's on the Bloomberg Terminal.
LEARN MORE