Waiting for Enda: Irish Contenders Zen as PM Heads to Exit
By
Irish Prime Minister Kenny prepares to lay out exit timetable

Social Protection Minister Varadkar favorite to succeed Kenny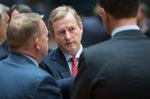 What do St. Patrick's Day, Brexit and Justin Trudeau have in common? They've all kept Irish Prime Minister Enda Kenny in power a little longer than expected.
Kenny is due to spell out his leadership plans at a party meeting in Dublin on Wednesday, after a visit to the U.S. to celebrate Ireland's national holiday, talks on the U.K.'s exit from the European Union and a trip to meet Canada's prime minister bought him a few extra months.
The question is whether he'll play for more time at the Fine Gael meeting, due to start at about 5:30 p.m., though the indications are he'll set a timetable for his departure. In interviews with Irish broadcasters, James Reilly, deputy party leader, said he expects Kenny "to make it very clear what his intentions are" while Spending Minister Paschal Donohoe said he anticipates the premier will outline his departure plan at the meeting.
The 66-year-old Kenny has repeatedly said he won't lead his party, Fine Gael, into the next election, and the next generation of potential leaders are pushing him to lay out an exit timetable. Bookies favorite, Social Protection Minister Leo Varadkar, the gay son of an Indian immigrant, has pronounced himself "Zen" as he awaits start of the leadership contest, with his main rival viewed as Housing Minister Simon Coveney.
"Irrespective of who wins, we think 'business as usual' will be the real result," said Philip O'Sullivan, an economist with Investec Plc in Dublin. "We struggle to identify meaningful policy differences between the two front-runners."
Assuming Kenny lays out a clear timetable for his exit on Wednesday, the new leader could be in place by early June. Still, Kenny could yet seek to stay on until the end of the year, the Irish Times reported on Tuesday.
Varadkar, 38, is best placed to succeed Kenny, bookmaker Paddy Power Betfair Plc said. The former health and tourism minister carries odds of 4/9 to be the next leader, meaning a successful 9-euro ($9.95) bet would return winnings of 4 euros.
Before it's here, it's on the Bloomberg Terminal.
LEARN MORE