technology
Uber, Engineer Stay United in Waymo Fight After Demotion
By and
Levandowski ordered by judge to stay off laser work for Uber

Both face growing pressure to turn over acquisition documents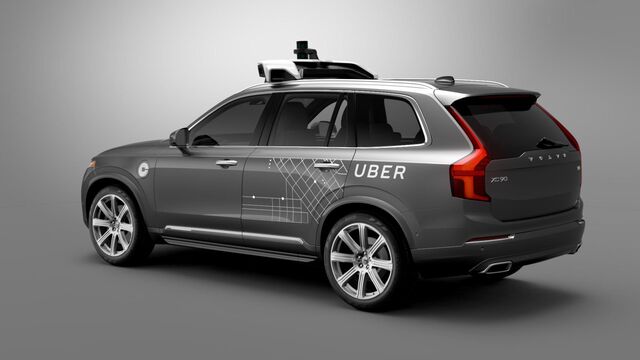 Uber Technologies Inc. and Anthony Levandowski need each other now more than ever -- for reasons having nothing to do with self-driving cars, and everything to do with presenting a unified front against any possible criminal investigation.
Levandowski, who was recently demoted from leading Uber's autonomous driving project but remains at the company, is at the center of an intensifying legal clash that Alphabet Inc.'s self-driving unit is waging against Uber. On Thursday, tensions rose with the specter of a criminal case. The judge overseeing the suit, which accuses Uber of using Levandowski -- who isn't named as a defendant -- to steal proprietary data before leaving Alphabet's Waymo, asked federal prosecutors to review the allegations.

U.S. District Judge William Alsup said Uber needed to remove Levandowski from work on the laser technology at the heart of the case until the suit is resolved -- a move Uber made preemptively when taking him off the project. Some Uber executives had wondered before the demotion why the company hadn't asked Levandowski to take a leave of absence or resign, according to a person with knowledge of the matter.
But pushing Levandowski out of the company could help drive a wedge between him and Uber, which prosecutors could use to persuade one party to supply information against the other.
"What Uber and Levandowski are basically saying is, 'We're in this together,'" said Silicon Valley defense lawyer Tom Nolan, who specializes in trade-secrets cases. "'You're not going to point your finger at me, I'm not going to point my finger at you.'"
Read More -- Fury Road: Did Uber Steal the Driverless Future From Google?
Alsup didn't say what the prosecutors should do when he recommended they review Waymo's allegations, though he said Thursday that "the evidence indicates that Uber hired Levandowski even though it knew or should have known that he possessed over 14,000 confidential Waymo files." He's also been critical of Levandowski, calling the evidence that he took Waymo's files "one of the strongest records I've seen in a long time of someone doing something bad."
Levandowski's lawyer, Miles Ehrlich, and Abraham Simmons, a spokesman for the U.S. Attorney's Office in San Francisco, declined to comment, as did representatives for Uber and Waymo.
Uber has denied the allegations and says its automation technology has been developed without significant input from Levandowski. The engineer has refused to testify in the civil case, asserting his Fifth Amendment rights against self-incrimination.
It's unusual for a judge to refer a civil suit for criminal review, according to former federal prosecutor William Portanova. But he added these claims are "the kind of thing the U.S. Attorney or FBI would be interested in."
Waymo has alleged that Levandowski stole trade secrets and used them to found his own self-driving startup, which Uber then bought. While Waymo's goal in the civil suit is to stop Uber from using any of the information, theft of trade secrets is also a federal crime, punishable by as long as 10 years in prison and fines.
Otto LLC
Waymo claims that in October 2015, Levandowski and Uber hatched a plan for him to steal confidential information. Two months later, Waymo alleges he downloaded more than 14,000 proprietary files, including the designs for lidar technology that helps driverless cars see their surroundings, to his personal laptop. The next month, Levandowski quit and started Otto LLC, which Uber bought that August.
Alsup denied Uber's bid to have the case heard in arbitration and a trial is set for October. They're now fighting over whether Waymo can access a due-diligence report that Uber and Levandowski commissioned last year to evaluate the risks associated with acquiring Otto.
Uber and Levandowski are also presenting a united front in that clash, resisting on the grounds the report is legally off-limits to Waymo. Alsup seemed suspicious of that, saying in the preliminary injunction decision Thursday "it seems Uber performed specialized 'due diligence' on Levandowski with an eye toward jointly defending against potential intellectual property litigation with Waymo as a result of his move to Uber."
The case is Waymo LLC v. Uber Technologies Inc., 17-00939, U.S. District Court, Northern District of California (San Francisco).
Before it's here, it's on the Bloomberg Terminal.
LEARN MORE