U.K. Hopes of Speedy Trade Deal Dented Not Derailed by EU
By
Singapore-EU trade deal needs nations to sign off, court says

Top court ruling seen as setting a precedent for the U.K.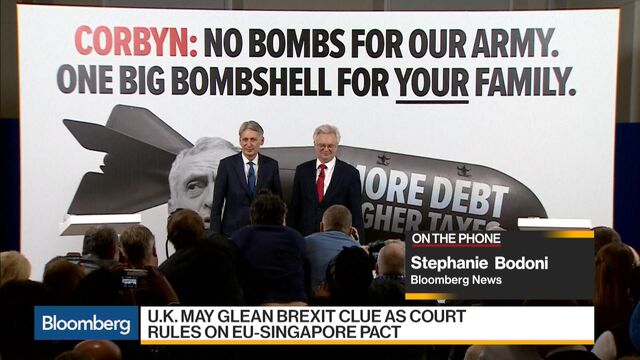 Follow @Brexit for all the latest news, and sign up to our daily Brexit Bulletin newsletter.
U.K. Prime Minister Theresa May's ambitions for a sweeping and speedy post-Brexit trade deal with the European Union were dented yet not derailed as the bloc's top court resisted handing full veto powers over such accords to national assemblies.
The European Court of Justice said on Tuesday that Singapore's free-trade pact with the EU must be voted on by all 28-member parliaments before it can become legal, erecting a potential obstacle to any future agreement between the U.K. and the EU. But lawyers and academics said the overall ruling could have been much worse from Britain's perspective.
The court said the EU maintains "exclusive competence" over areas including foreign investment, intellectual property rights and environmental standards. That means national ratification may not be necessary for all the parts of any eventual U.K.-EU commercial arrangement.
The ruling could make the need for national sign-off of a U.K.-EU trade deal "less likely" since the two sides "aren't seeking an investment deal," Steve Peers, a professor of EU law at the University of Essex, said on Twitter.
Precedent-Setting
Singapore and the EU began negotiating their free trade agreement in 2010. The court decision on how the EU should ratify the deal that resulted was eagerly awaited as the U.K. gears up for its own trade negotiations for when it leaves the region.
EU nations must have a say on the EU-Singapore accord because the EU lacks exclusive rights to sign off on a deal covering non-direct foreign investment and a system on dispute settlement between investors and governments, the court ruled.
In December, an advocate general to the court went much further, saying that individual EU nations should also ratify the Singapore agreement because some aspects, also including labor and environmental standards and trade in air transport services, fall under national jurisdiction.
Tuesday's ruling could leave the U.K. and EU scope to press ahead with ratification of parts of a deal that only need EU approval and wait until later to seek national approval for the remainder, said Aarti Shankar, a policy analyst at London-based think tank Open Europe.
"What would likely happen would be for the EU to choose for a provisional application of the trade deal," she said. "So the vast majority of provisions not relating to member states or shared competence would enter into force after the EU institutions have approved the deal, even before national parliaments went into ratification."
"The intricacy of the U.K.-EU deal is that in fact we are not looking to integrate further with a partner. This is an example of two members of a bloc where one is actually looking to disentangle itself," she said.
Belgian Obstacle
Singapore's government declined to immediately comment. Representatives of U.K. Prime Minister Theresa May's ruling Conservative Party didn't immediately respond to a call and an email.
You have to look no further than the EU-Canada accord, which was nearly scuttled last year by a Belgian region, to see that "approval within each of the EU's member states can be a significant stumbling block in finalizing mixed agreements," said Alice Darling, a lawyer in Clifford Chance's trade team in London.
In its opening stance on Brexit talks, the U.K. has said it "does not seek membership of the single market" and wants to be able to negotiate deals with non-EU countries.
But it also wants a "bold and ambitious" free trade deal covering sectors including financial services and for commerce to be frictionless. May has defied experts by saying such a pact can be completed in two years.
She doesn't want to "adopt a model already enjoyed by other countries" and has said that failure to seal a deal would leave Britain free to rethink its economic model. May indicated in April that she understands a trade deal may not be signed until after March 2019.
EU President Jean-Claude Juncker "anticipated this outcome, when he decided last year that the EU-Canada trade deal should also be ratified at Member State level," said European Commission spokesman Margaritis Schinas. "The commission will now carefully assess and analyze the opinion of the Court and will continue engaging with the European Parliament and member states on the way forward."
The case is: Avis 2/15.
— With assistance by David Roman, Ian Wishart, and Svenja O'Donnell
Before it's here, it's on the Bloomberg Terminal.
LEARN MORE