Singapore Navy Chief Calls for Asian Submarines to Join Conduct Code
By and
More than 250 submarines likely in Asian waters by 2030

Says stealth role wouldn't be compromised by code inclusion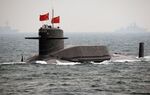 Asia-Pacific navies should extend a code of conduct to submarines to reduce the risk of accidents among the 250 underwater vessels expected to be operating in Asia by 2030, according to Singapore's navy chief.
Extending the Code for Unplanned Encounters at Sea to submarines wouldn't compromise the stealth capacity of the vessels, Rear Admiral Lai Chung Han said at a maritime security conference in Singapore Tuesday. The code, agreed in 2014, aims at curbing the chances of accidents at sea, and reducing the risk of escalation if an incident occurs.
"By 2030, more than 250 submarines will be operating in the shallow waters of our region and having to share that with the current navy surface ship traffic," Lai said. "In my mind these are clear, blatant conditions for an underwater accident to happen."
The region's navies are buying or building submarines partly in response to China's growing fleet and amid territorial tensions extending from the East China Sea to the South China Sea and the Indian Ocean. Singapore's Defense Minister Ng Eng Hen said Tuesday his country would buy two more submarines to be operational by 2024, adding to two already on order. Taiwan and Thailand are among Asian countries that have announced plans to acquire submarines this year.
Getting the region's navies on board with the idea may prove difficult, given the importance of stealth for submarine operations.
"Submarines are designed to be secretive," said Zhai Baoran, a captain with the Chinese navy's South China Sea Fleet. "Sharing information with other countries would be unimaginable."
CUES signatories include Australia, China, Japan, Russia, Singapore and the U.S.
— With assistance by Rosalind Mathieson, and Jason Koutsoukis
Before it's here, it's on the Bloomberg Terminal.
LEARN MORE