climate-changed
Climate Scientist Turns Political Power Broker in Canada's West
By
Green Party to play pivotal role after dramatic B.C. election

Leader won't say whether he'll ally with Liberals or NDP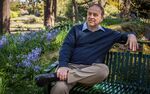 Andrew Weaver is an unlikely power broker. His Green Party of British Columbia never had more than a single seat in the Canadian province's parliament, and it got its first campaign bus in this election.
"I always wanted to be a scientist, never a politician," Weaver, 55, a university professor first elected in 2013, told Global News earlier this month. "When I was really young I asked Santa Claus for books on the ocean. I thought I'd go into marine biology."
A dramatic election left the Cambridge-trained climatologist wielding the balance of power in the Pacific Coast province that has led growth and job creation in Canada. That could potentially determine the fate of multibillion-dollar energy projects and the outlook for the Vancouver housing market, the nation's priciest.
Last week, the B.C. Greens won three of the province's 87 districts, a first for any wing of the Green Party in Canada, while Premier Christy Clark's Liberal Party fell one short of a majority. It will be the province's first minority government in 65 years, though recounts by the end of the month could sway the final outcome. Clark, who's led B.C. for six years, said the result means her new term will be a different one, signaling a willingness to work with the Greens.
Clark, 51, lost no time reaching out. "I've had a good relationship working with Dr. Weaver in the past -- he's a smart, thoughtful, reasonable guy," she said after her tight victory. "Whether it's a majority or minority, I do intend to work across partisan lines."
Weaver's constituents are staunch opponents of controversial energy projects the Liberals backed, including Kinder Morgan Inc.'s Trans Mountain oil pipeline and a Petroliam Nasional Bhd liquefied natural gas terminal -- both critical to opening new Asian markets for Canada.
'Pipe Dream'
"LNG was nothing but a pipe dream," Weaver said in his first post-election news conference on Wednesday. "The people of British Columbia have been sold a bill of goods on LNG and, meanwhile, the areas that we should have been investing in have not had attention."
His opposition carries intellectual heft. Weaver scoured thousands of pages of documentation on Trans Mountain as an intervener in the federal review, and among the more than 600 questions he put to regulators was why Kinder Morgan's consultants used the drift of a man who fell off a ferry in 1993 to model a potential oil spill.
"In my more than three decades of ocean and climate modeling research, I have never before heard of a person falling out of a ship being used as a data point for model validation," he wrote in a letter to Prime Minister Justin Trudeau urging him to reject the project.
Paris Agreement
Only five years ago, Weaver was modeling changes in permafrost, sea ice and carbon dioxide emissions at the University of Victoria, where he contributed to more than 200 scientific papers and helped author the United Nations' exhaustive review of worldwide scientific evidence that underpinned the Paris global climate treaty.
On the surface, the Greens would appear to align more closely to the opposition New Democratic Party, which trailed the Liberals in only two seats. The NDP has vowed to use "every tool" to thwart Trans Mountain and, like the Greens, wants a housing speculator tax.
But in the province that prides itself for being the birthplace of Greenpeace, Weaver is not the stereotypical anti-capitalist environmentalist. While he confidently argues for higher carbon taxes, he has stressed that businesses should be given some certainty, with the regularity of the increases. That deference to the importance of businesses sets him apart.
"I really worry about the NDP economic plan," Weaver told Global News days before the poll. "Frankly, they don't have an economic plan -- their plan is how governments retrofit their buildings with union workers. That doesn't incentivize industry."
Not Radical
Rachel Curran, a Clark supporter who was policy director for former Conservative prime minister Stephen Harper, says Weaver "is probably one of the best spokespeople and the best faces for the Green Party that I have seen -- there is nothing about him that looks or sounds radical." But Clark and Weaver will find it difficult to reach common ground in the resource sector. "I think this may be the issue on which they eventually part ways."
The Greens' platform also calls for steps to cool the housing market, including the introduction of taxes on speculators and on capital gains, a doubling of the levy on foreign buyers to 30 percent, and a property transfer tax of as much as 12 percent, four times the current cap. If enacted, they could crash the Vancouver market at a time when policymakers harbor nagging concerns about a looming crisis.
At least a third of the region's economic growth last year was driven by real estate and related activities, according to the Business Council of British Columbia.
'Wild West'
Weaver refuses to say which party he would support in a potential minority government or coalition -- the one red line he's drawn is that any party seeking his support must agree to ban corporate and union contributions to political parties. In a province dubbed the "Wild West" because it places no limits on campaign donations, the Liberals and NDP jointly raked in million of dollars last year from businesses and unions. In Canada most provinces limit any donation to a few thousand dollars.
In the meantime, the scholarly academic who vows not to become a career politician -- he wants all B.C. lawmakers to face a three-term limit -- appears to be enjoying himself.
"I feel more relaxed today than I have in several months," Weaver told reporters Wednesday when asked if he felt under pressure in his abruptly more prominent role. "I know we got here to advance public policy. That's exciting, that's not stressful."
— With assistance by Greg Quinn, and Josh Wingrove
Before it's here, it's on the Bloomberg Terminal.
LEARN MORE