Sao Paulo Mayor Says He Would Run in 2018 If Chosen by His Party
By
Polls show Joao Doria in strong position for presidential bid

State governor of Sao Paulo also likely to run for presidency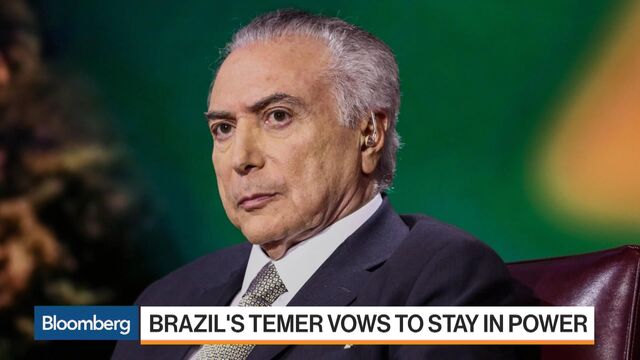 The mayor of Brazil's biggest city, Joao Doria, said he would run for the presidency next year if chosen by his party in primaries.
Asked during an interview at Bloomberg headquarters in New York whether he would accept the nomination of his Brazilian Social Democracy Party, or PSDB, Doria answered: "respecting democracy, why not?"
The statement was Doria's clearest indication to date that he is considering a run for the presidency. As a popular but largely untested politician who only won his first election last year, Doria has previously avoided the question of whether he would run for the nation's highest office.
Investors are keeping track of 2018 election developments to measure the chances that an outsider could win and undo some of the current administration's market-friendly measures. Following the worst economic recession on record and a corruption scandal that cost tax payers billions of reais, opinion polls on next year's presidential race show voters eschewing many of the country's traditional politicians in favor of outsider candidates.
In the interview, Doria, a 59 year-old former TV host and businessman, was also quick to emphasize his loyalty to Sao Paulo state Governor Geraldo Alckmin, his political mentor, who on Monday indicated he is also considering entering the presidential race.
A Datafolha survey carried out at the end of April found Alckmin had significantly lower levels of support than Doria, who won the election for mayor of Brazil's largest city in October last year. In that race, Alckmin over-ruled party chiefs to ensure the PSDB held primaries to determine its candidate. Both Doria and Alckmin agree on the need to hold a similar selection process to chose the PSDB's presidential contender.
Former President Luiz Inacio Lula da Silva is currently leading the opinion polls for 2018. Doria played down the chances of a Lula comeback, saying the overwhelming majority of Brazilians were against him and his party, as shown by the massive demonstrations in favor of the impeachment of Lula's hand-picked successor, Dilma Rousseff.
"There's nothing to fear in the future of Brazil," he said. "Not even Lula can frighten Brazil."
Before it's here, it's on the Bloomberg Terminal.
LEARN MORE