Rutte Won't Talk to Dutch Greens About Coalition After Collapse
By
Prime minister again refuses to be in coalition with Wilders

Dutch parliament will debate the state of play on Wednesday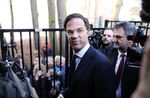 Dutch Prime Minister Mark Rutte said it's very unlikely his Liberal party will resume coalition talks with the Greens after almost two months of four-way discussions broke down unexpectedly.
Negotiations on forming a new government between Rutte's Liberals, the Christian Democrats, the centrist D66 party and the Greens collapsed Monday, exactly two months after general elections in the Netherlands produced a widely divided legislature. The discussions faltered over disagreements on immigration.
"It seems very complicated to revive this, because this was not a big quarrel but a calm thoughtful decision, taken amid a good atmosphere, that the differences are very big," Rutte told reporters in The Hague on Tuesday.
The speaker of the lower house, Khadija Arib, called a meeting with the leaders of all the 13 parties that won seats in parliament in the elections on Tuesday. The chamber will now have a debate on Wednesday about how the coalition talks can proceed.
Rutte, whose Liberals won the elections with 33 out of the 150 seats, repeated his opposition to working together with Geert Wilders's anti-Islam, anti-European Union Freedom Party, which came second with 20 seats. Wilders repeated that he's open to coalition talks.
Lawmakers are most likely to decide on Wednesday that new talks will start as soon as possible. The discussions will most probably again involve the Liberals, Christian Democrats and D66 because they have 71 seats between them.
The Christian Union party, which has five seats, is a possible fourth partner for them, but that would only produce a coalition with a majority of two seats. Another alternative would be Lodewijk Asscher's and Finance Minister Jeroen Dijsselbloem's Labor Party, which has nine seats. That seems unlikely, though: the party lost 29 seats in March's election, the worst rout in Dutch electoral history, after spending four years as Rutte's junior coalition partner.
Before it's here, it's on the Bloomberg Terminal.
LEARN MORE