politics
Merkel Ally Says Macron's Brexit Stance to Strengthen Her Hand
By and
French leader 'on our side,' German CDU lawmaker Fuchs says

Sees Macron, Merkel agreement on defending EU's four freedoms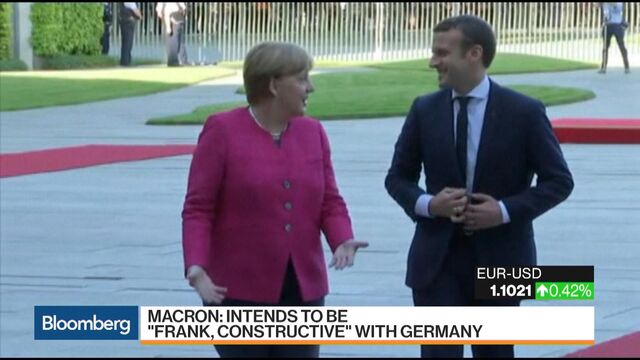 Brexit talks just got "a little bit easier" for German Chancellor Angela Merkel's government with Emmanuel Macron as French president, a senior member of her party said.
Germany's stance that the U.K. can't access the European Union's single market without accepting its free-movement principles will be shored up by a like-minded leader in Paris, Michael Fuchs, a deputy parliamentary caucus chief of Merkel's Christian Democrat-led bloc, said in a Bloomberg Television interview on Tuesday.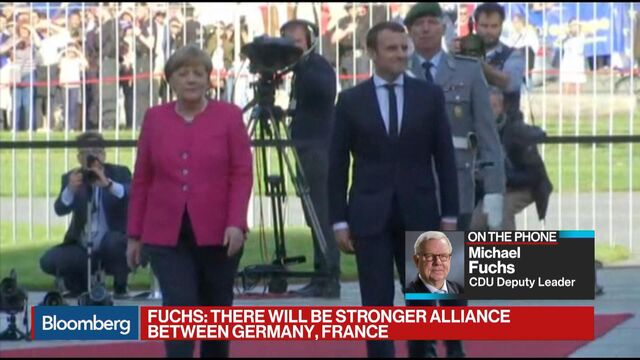 With respect to the EU's free movement of services, capital, goods and labor, "Macron looks at it with the same point of view, so we have somebody on our side," Fuchs said. "Since we have a European-oriented partner with Macron, it might even be a little bit easier."
Macron made his first trip as president to Berlin on Monday for talks with Merkel on reinvigorating German-French ties, strengthening the EU and boosting investment within the euro area. Merkel cited the urgency to act at a "critical moment" as the EU confronts a series of crises in addition to Britain's exit.
Ahead of EU-U.K. negotiations on Brexit, Merkel last month warned of "illusions" harbored by British officials about the complexity of the talks.
Fuchs said Macron, who defeated populist candidate Marine Le Pen on May 7, will be a stronger advocate of EU integration than his predecessor, Francois Hollande.
"He's pro-European, more pro-European than Hollande has been," Fuchs said. "So that is going to be of help for us, because we want to have a stronger Europe."
Before it's here, it's on the Bloomberg Terminal.
LEARN MORE