pursuits
This Secretive Dealmaker Bets Wall Street Is Wrong on Retail
By and
Stefan Kaluzny runs Sycamore, a hugely profitable buyout firm

Sycamore is caught in the storm tearing through retail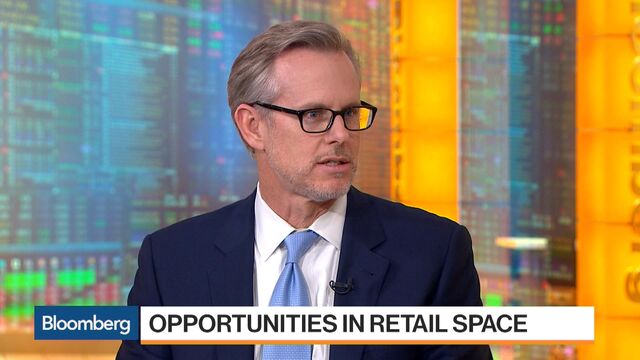 At a time when it's almost impossible to find anyone willing to take a chance on America's ailing retailers, Stefan Kaluzny is all in.
Like many in the world of leveraged buyouts, he's made a killing doing the kinds of deals that have left scores of retailers buckling under their own debt. But what truly sets Kaluzny apart is the belief he can turn them around.

Kaluzny runs Sycamore Partners, arguably the most successful private equity firm to specialize in retail and consumer investments. A virtual unknown outside Wall Street, the 50-year-old native New Yorker has earned a reputation over the years as something of a savant for his ability to resuscitate failing store chains like Talbots and Zales.
But now, as the long, slow death of retail suddenly accelerates and bankruptcies of traditional fashion chains and department stores pile up at a record pace, Kaluzny runs the risk of staking his $3.5 billion private equity firm to an industry that might just be doomed to fail.
"It's very hard to turn these retailers around," said Michael Stanley, a managing director at Rosenthal & Rosenthal, a New York-based commercial finance firm. In the current business environment, "it's virtually impossible."
Kaluzny, who rarely talks to the news media, declined several interview requests for this story and asked associates to do the same. Of the two dozen or so contacted by Bloomberg, who included consultants, fund investors, analysts, and current and former executives at Sycamore-owned companies, many were unwilling to talk about Kaluzny or his firm. Sycamore's deals are also privately financed, so it's hard to know how specific companies are performing because they don't disclose earnings.
Deep Trouble
There's little doubt the odds are stacked against Kaluzny.
By now everyone knows much of the retail industry is in deep trouble. In the age of online shopping, the recent travails of chains like Ralph Lauren and Payless only underscore those challenges. One hedge-fund manager, echoing basically what all of Wall Street is saying these days, suggested that such struggles are a "forever trend."
Yet with a handful of big investments -- including Hot Topic, a youth-oriented, music-themed apparel retailer, shoe seller Nine West, and Belk, a department store chain in the South -- Kaluzny is betting that he can beat those odds.

Growing up in modest circumstances on the Lower East Side of Manhattan in the 1970s, Kaluzny quickly stood out. He attended the prestigious Phillips Academy boarding school in Andover, Massachusetts, before going on to pick up degrees from both Yale and Harvard Business School.
Playing Rough
Kaluzny cut his teeth in retail running Delray Farms, a grocery chain that catered to Hispanic communities around Chicago. Then, in 2000, he joined San Francisco-based Golden Gate Capital, where he made a name for himself in private equity working on lucrative deals for Express, Eddie Bauer and Zales.
Former colleagues and rivals describe Kaluzny as a magnetic, if at times hotheaded, dealmaker with an almost preternatural understanding of the ins and outs of the retailing business. He can be dismissive of those who don't see things his way and isn't afraid to play rough to get what he wants. (Last year, Aeropostale accused Sycamore and Kaluzny in a lawsuit of plotting to drive the teen retailer into bankruptcy to seize control. Aeropostale lost and Sycamore walked away after being outbid in an asset auction.)
It's a mix of fear and respect that has punctuated much of Kaluzny's career. After clashing with Golden Gate's top partner, David Dominik, over pay, he returned to New York and co-founded Sycamore with Peter Morrow in 2011. His first fund delivered an annualized net return of 51 percent through Sept. 30, tops among all billion-dollar buyout funds started that year, regardless of strategy, according to data compiled by Bloomberg.
"He's got exceptional instincts," said Dean Mihas, a former business partner and close friend of Kaluzny's, who currently works as a managing director at GTCR, a Chicago-based private equity firm.
Bottom Half
Still, recent returns underscore just how daunting the challenge has become. Sycamore's $2.5 billion fund, launched in 2014, has returned minus 4 percent thus far, Bloomberg data show. While the fund is still in an early stage of investing, the performance puts it in the bottom half of its universe.
Kaluzny's playbook relies on the well-worn strategy of buying beaten-down retailers with borrowed money, but how he actually goes about reviving their fortunes is a closely guarded secret. Nevertheless, some clues have emerged.
Take Talbots, perhaps Kaluzny's most conspicuous deal, which has netted a more than sixfold return on invested capital for Sycamore and its backers, according to people familiar with the matter.
After costly forays into men's and young women's fashions hurtled Talbots toward bankruptcy, Sycamore swooped in with a $193 million, fire-sale offer in 2012 after everyone else backed away. Kaluzny quickly refocused the Hingham, Massachusetts-based company on its core demographic -- older, well-to-do women who favor traditional basics like blazers, ballet flats and pearls.
Core Demographic
"Older women have money to spend and tend to go to stores rather than shop online," said Mathew Christy, an analyst at S&P Global Ratings. "That segment is outpacing everyone across the retail space, and that has benefited Talbots."
One way Kaluzny pushed down costs at Talbots is by obtaining merchandise from MGF Sourcing, a low-cost supplier Sycamore also controls. It's a key strategy for many of its companies, the people said, and part of Kaluzny's low-risk, high-reward approach. Another is real estate. Sycamore will often sell, then lease back a company's properties to defray its own costs.
By putting in as little as possible, the downside is limited. If things improve, the payoff can be enormous. With Talbots, Sycamore has reaped tens of millions in dividends and continues to hold a majority stake.
However, some notable cracks have started to appear. Nine West, which Sycamore acquired as part of a larger buyout of Jones Group in 2014, has proven to be particularly troublesome. In January, Sycamore moved to combine Nine West with another portfolio company -- women's apparel seller Kasper Group -- after it ran short of cash and struggled with $1.5 billion of debt. Moody's Investors Service panned the decision, saying Nine West's debt load was still far too high, and downgraded it two days later.
'Not Enough'
"It's just not enough," Moody's analyst Mike Zuccaro said at the time.
While Sycamore recouped its investment after splitting up Jones and unloading its best parts, the prospects of turning a profit are slim. Just last month, Sycamore sold its interest in Dollar Express because the discount chain could "no longer operate as a viable standalone business" due to changes in competitive conditions since its purchase, a regulatory filing showed.
The loans that Sycamore used in late 2015 to acquire Belk, the firm's biggest retail buyout at roughly $2.7 billion, were sold at deep discounts to credit investors and continue to trade below 90 cents on the dollar.
Those hiccups suggest Kaluzny may need to revamp, or at least tweak, his playbook. And there are signs he's starting to do just that, moving beyond brick-and-mortar retailing. In January, on the day The Limited Stores filed for Chapter 11 bankruptcy after closing all its stores, Sycamore agreed to buy its brand and e-commerce business. (It reportedly won the assets at auction for just under $27 million.) Last month, Sycamore said it bought NBG Home, a maker of home-decor products like frames, lighting and accent furniture, from buyout firm Kohlberg & Co.
Yet regardless of what ultimately happens, this much is clear: everything is on the line, and nothing is going to be easy.
"The bar is really high" for investors in retail, said Liz Dunn, the chief executive officer at Talmage Advisors, a New York-based retail and brand consulting firm. The risk is "you may be sitting on a losing asset."
— With assistance by Lindsey Rupp
Before it's here, it's on the Bloomberg Terminal.
LEARN MORE