Kuwait Joins Saudi Arabia, Russia to Seek Oil Cuts Into 2018
By
Cuts extension to end-March needed to trim global stockpiles

OPEC and other producers to meet May 25 to decide on extension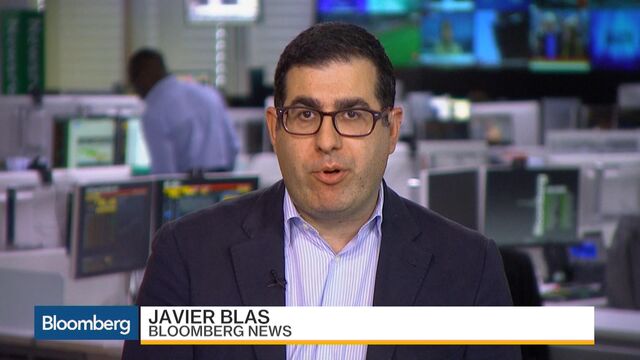 Kuwait joined Saudi Arabia and Russia in supporting an extension of oil-output cuts by OPEC and other global producers through the first quarter of 2018 to help trim global stockpiles.
An extension of the cuts at already agreed-upon volumes is needed to reach the goal of paring world inventories to their five-year average, Kuwait's Oil Minister Issam Almarzooq said Tuesday in an emailed statement.
"There are positive signals that have started to show, as April and May monthly reports are showing that global stockpiles have fallen significantly," Almarzooq said.
Russia and Saudi Arabia, the largest of the 24 producers that agreed to cut output for six months starting in January, said on Monday that they favor a nine-month extension of the reductions. Oman, a non-OPEC producer like Russia, expressed support the same day for curbs to continue until the end of March. OPEC is due to meet with fellow producers on May 25 to decide on the extension. 
Talks are under way to persuade three to five additional countries to take part in a new deal, Russian Energy Minister Alexander Novak told reporters in Moscow. Novak declined to identify the nations. 
Surging U.S. output has raised concern that the cuts are failing to reduce a glut. Oil has surrendered about half its gains since the producers' accord to cut output late last year.
U.S. Output
Members of the Organization of Petroleum Exporting Countries agreed in November to cut 1.2 million barrels a day of oil production. Several non-members, including Russia, agreed in December to contribute a combined 600,000 barrels a day of output reductions.
Amid the cutbacks, production in the U.S., which isn't part of the agreement, has risen to the highest level since August 2015. U.S. crude inventories are finally showing some signs of shrinking, falling for the past five weeks from record levels at the end of March.
"Extending the cuts for another nine months may not eliminate the glut in the market," said Sadad Al-Husseini, a former executive vice president of exploration and development at Saudi Arabian Oil Co., the state producer also known as Saudi Aramco. "There are no fast solutions to end this situation, and the only solution possible is to let oil prices work their way" to clear the oversupply, Al-Husseini said from the Saudi city of Dhahran.
The deliberations come as two OPEC members exempt from the cuts boost output. Libya's crude production has risen to more than 800,000 barrels a day, the most since 2014, while Nigeria's 200,000-barrel-a-day Forcados pipeline is ready to export again after almost continuous halts since February 2016. It's unclear whether the countries would still be exempt if the deal is prolonged.
NOTE: Bloomberg will be holding a TOPLive Q&A blog on Thursday, May 18, at 2 p.m. London/9 a.m. New York, in which you can ask First Word oil strategist Julian Lee questions about the OPEC meeting on May 25. Watch it at TLIV. If you want to ask a question, please send to TOPLive@bloomberg.net
Quotes from this Article
Before it's here, it's on the Bloomberg Terminal.
LEARN MORE