Elliott Demands BHP Oil Review, Drops Call on Listing Shift
By
Activist sets out revised proposals for world's No. 1 miner

BHP will continue to sell some U.S. shale acreage, CEO says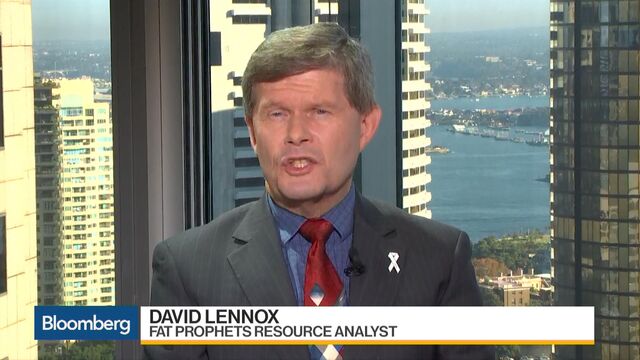 Billionaire Paul Singer's Elliott Management Corp. set out new demands for change at BHP Billiton Ltd., calling on the world's largest miner to conduct an independent review of its oil unit and dropping a proposal to downgrade the producer's listing in Australia.
Elliott has carried out talks in the past month with investors holding tens of billions of dollars of BHP shares and believes there's "extremely broad and deep-rooted shareholder support" for an assessment of the petroleum division, the New York-based fund said Tuesday in a statement, without naming the shareholders. The unit is worth about $22.5 billion, according to Deutsche Bank AG.
BHP has destroyed about $31 billion in value through its foray into U.S. shale and failed petroleum exploration as well as a further $9 billion in poorly timed share buybacks, Elliott said in a letter to the company's board. "We have seen a significant groundswell of dissatisfaction among shareholders, which is rooted in BHP's chronic under-performance," the fund said.

BHP rejects Elliott's claim that it has been misleading in responding to proposals and will review and reply to the letter as appropriate, the company said in an emailed statement. Chief Executive Officer Andrew Mackenzie is due to hold shareholder talks over the coming weeks.
The producer acknowledges its U.S. shale acquisitions "were poorly timed, that we paid a too high price, and that the rapid pace of early development was not optimal," Mackenzie said Tuesday in a speech to a conference in Barcelona. "We have learned that lesson." BHP will continue to look at divesting some shale acreage, he said, even as it believes the assets are "well-placed for the future."
BHP advanced 0.8 percent to A$24.02 in Sydney trading Tuesday, extending gains in the past year to 29 percent.
"What this shows is that Elliott aren't fly-by-night, they are clearly sticking around," said Andy Forster, senior investment officer at Argo Investments Ltd., which manages more than A$5 billion ($3.7 billion) and holds BHP's Sydney-listed shares. "They are agitating for changes that may deliver short-term benefits, but not necessarily longer-term value. I don't think there's that much to be gained from an independent review of the oil business."
Elliott, which published an initial set of proposals on April 10 following months of private talks with BHP, said it has revised plans to unify the company's corporate structure. These would allow the producer to stay incorporated and headquartered in Australia with ordinary shares listed in Sydney. The plan would also raise BHP's market value by $5 billion and likely cost about $200 million, as opposed to the producer's estimate of about $1.3 billion, the fund said.
Australia's Treasurer Scott Morrison said this month the government would oppose any attempt to shift BHP's main listing and corporate home to the U.K. BHP's diversification and "solid position in oil and gas," support its credit metrics, Moody's Investors Service said in a May 3 statement, as it warned of potential negative implications from any change to financial policies or the company's portfolio.
While Elliott favors a full or partial spin-off of the petroleum assets, other options could include separate sales or a demerger of the U.S. assets and a second spin-off in Australia of the remaining operations, according to the fund, which has assets under management of about $33 billion. Elliott is seeking to meet with BHP management in Barcelona, according to a person with knowledge of the fund's plans, who requested anonymity because the information isn't public.
Demands for changes to strategy in the past month from Elliott and Sydney-based Tribeca Global Natural Resources Fund have instigated rounds of discussions between investors, the activists and BHP that have thrown a spotlight on the fate of oil within BHP's portfolio. A spin-off of the entire division would be the most value accretive option in the short term, Citigroup Inc. analysts including Sydney-based Clarke Wilkins wrote in a May 15 note.

BT Investment Management Ltd., which manages about A$87 billion of assets and holds shares in BHP, has argued the company should sell the shale assets, while Aberdeen Asset Management Plc, the second-largest holder of BHP's London-listed shares, according to data compiled by Bloomberg, has said it wouldn't be against any new review of the petroleum unit.
BHP, which acquired its U.S. onshore assets in deals worth about $20 billion in 2011, has since booked pre-tax writedowns totaling about $13 billion on the unit. The producer, which has halved its shale holdings since 2012, is seeking to sell parts of a Texas gas field and is considering an exit from the Fayetteville shale gas assets in Arkansas.
— With assistance by Perry Williams
Before it's here, it's on the Bloomberg Terminal.
LEARN MORE