Elektra Says Share Jump Explained by Profit Gains, Fitch Upgrade
By
Elektra says it consistently meets requirements to be on IPC

Company issues statement in response to Bloomberg article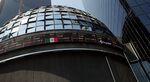 Grupo Elektra SAB meets requirements to be on Mexico's benchmark stock gauge and its shares have gained amid profit increases and an improved capital structure, the company said in response to a Bloomberg article published last week.
The article -- which attributed much of this year's rally of more than 150 percent to derivatives that make the shares scarce -- should have instead cited the company's improved profitability over the past seven quarters, its prepayment of some dollar debt and improved credit grades from Fitch Ratings, Elektra said in a statement Tuesday.
The story called attention to the fact that Elektra, the retail and bank conglomerate controlled by billionaire Ricardo Salinas, has stayed on the country's benchmark IPC equity index even though it has sometimes violated membership rules that require a minimum number of shares to circulate within the market, according to data compiled by Bloomberg.
Shares of the company fell for a third consecutive day, losing as much as 6.1 percent for the biggest intraday decline in almost two weeks.
Elektra said it disclosed a float of 26 percent in its 2016 annual report -- above the 12 percent required to be on the IPC -- and it has consistently met quarterly criteria for inclusion on the index.
But after subtracting the portion of Elektra shares tied up in equity swap derivatives, Elektra's float fell below the Bolsa's 12 percent threshold at the end of last year and has varied from as low at 7.8 percent to as high as 20 percent since the beginning of 2014, according to data compiled by Bloomberg.
At the end of the first quarter, Elektra met the Bolsa's requirement that at least 12 percent of its shares be floated after subtracting the portion tied up in swaps, according to data compiled by Bloomberg.
Quotes from this Article
Before it's here, it's on the Bloomberg Terminal.
LEARN MORE