Bullish Dollar Bets Were the Most Crowded Trade. Not Anymore
By
U.S. outlook darkens while Europe political risks abate

Options show falling odds of dollar gain versus euro this year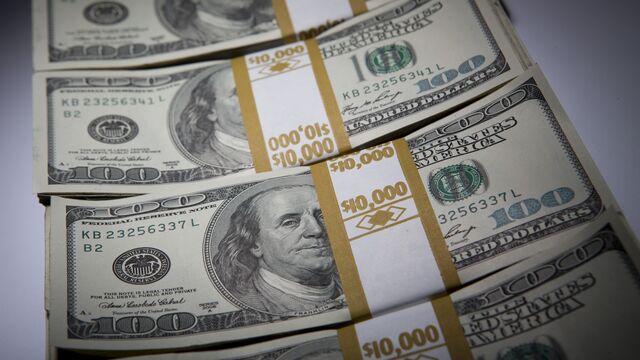 The dollar has been knocked off its pedestal.
Bullish bets on the U.S. currency have been toppled as the world's most popular trade after five months of holding the top spot, according to a Bank of America Merrill Lynch survey of fund managers. Hedge funds have cut net long positions to an 11-month low. And the chances of the dollar climbing this year against the euro have plunged to just 14 percent, options markets imply.

The greenback has undergone a stunning reversal of fortunes, falling more than 5 percent since early January after an almost 7-percent rally from November. Political turmoil has clouded the prospects of President Donald Trump's administration pushing through fiscal-stimulus policies that would stoke growth and inflation. In contrast, political risks in Europe have receded after Emmanuel Macron's victory in the French election, boosting the outlook for the euro.
"The dollar is taking another beating," said Minh Trang, a senior foreign-exchange trader at Silicon Valley Bank in Santa Clara, California. The lender is the third-most accurate forecaster of major currency rates, according to Bloomberg's first-quarter rankings. "There's been the firing of the FBI director and potential compromise of classified information. These headlines diminish the credibility that this administration can push through much of the fiscal stimulus that was talked about earlier in the year."
The dollar fell 1 percent to $1.1086 per euro as of 4:13 p.m. in New York.
The median forecast for the euro-dollar exchange rate has risen to $1.10 for year-end, the highest prediction for the shared currency since November. Prospects for the euro have improved as strengthening economic data in Europe spurred speculation that the European Central Bank may pull back economic stimulus. That leaves only six analysts calling for euro-dollar parity by the end of 2017, down from 11 forecasters at the beginning of this year.
Goldman Sachs Group Inc. became the latest bank to dial down its dollar forecast last week. It expects the greenback to trade at $1.05 per euro in 12 months, compared with a previous $1.00, the bank said in a note. That follows Societe Generale SA saying earlier this month that the dollar has peaked.
For the fund managers surveyed by Bank of America Merrill Lynch, it's time to worry about stocks. The so-called long Nasdaq trade is now the most crowded, they said in a report Tuesday.
— With assistance by Andrea Wong
Before it's here, it's on the Bloomberg Terminal.
LEARN MORE