Billionaire Deripaska Sues AP Over Story on Manafort and Putin
By
Russian tycoon filed libel claim with U.S. court on May 15

News organization stands by story, says will defend itself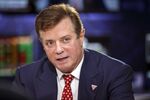 Billionaire Oleg Deripaska is suing the Associated Press over a report that he paid U.S. President Donald Trump's former campaign chairman Paul Manafort for work to improve the Russian government's image.
The aluminum tycoon filed a defamation claim at the U.S. District Court for the District of Columbia on Monday, which stated that the March 22 report falsely accused him of "involvement in criminal acts and other improprieties." It also left a false impression that Deripaska's business activities between 2005 and 2009 were linked to Trump's presidential campaign in last year's elections, according to the claim submitted by Deripaska's lawyers.
The news organization stands by the story and will defend the lawsuit vigorously, its general counsel, Karen Kaiser, said Tuesday in an email sent by the AP's media relations office.
Manafort wrote in a 2005 strategy memo to Deripaska that he'd developed a plan that could "greatly benefit the Putin Government," the AP said in the story, citing unidentified people familiar with the matter and confidential business records. Deripaska is described as a close ally of President Vladimir Putin in the story, which said that Manafort signed a $10 million annual contract with the businessman starting in 2006. He and Deripaska maintained a business relationship until at least 2009, the AP's report said.
Deripaska's spokeswoman, Vera Kurochkina, said at the time the AP's story was published that there was only an "agreement between Mr. Deripaska and Mr. Manafort to provide investment-consulting services related to business interests of Mr. Deripaska which now is a subject to legal claims." She denied that Deripaska paid Manafort for work to improve Russia's image in 2005. Manafort also denied in the AP story at the time that work for Deripaska involved representing Russian political interests.
Newspaper Advertisements
The billionaire later bought advertisements in a number of U.S. newspapers that denied what he called the report's "malicious assertion" and stated that his business flourished long before Putin became president at the end of 1999.
Manafort joined the Trump campaign team in March 2016 and was promoted to chairman two months later. He resigned from the campaign in August, days after the New York Times published an investigative report into Manafort's dealings in Ukraine, where he served as an adviser to that country's pro-Russian former president.
Deripaska is Russia's 17th richest man with a fortune estimated at $6.9 billion. His major assets include 48 percent in United Co. Rusal, the largest aluminum producer outside China, and En+ Group Ltd, the power and metals company that's planning an initial public offering in London.
The court claim seeking damages submitted by Boies Schiller & Flexner LLP states that the AP's report caused Deripaska "special harm" because his business interests "suffered a loss of good will value and other pecuniary loss."
The case is Oleg V. Deripaska v. The Associated Press, 17-cv-00913, U.S. District Court, District of Columbia (Washington).
Quotes from this Article
Before it's here, it's on the Bloomberg Terminal.
LEARN MORE