Best Robin Hood Gala Dates: Ken Griffin and Mom, A-Rod With J-Lo
By
Also: Miley and Hemsworth, McEnroe and Smyth, the Kravises

Jeb Bush says Robin Hood donors put money where their mouth is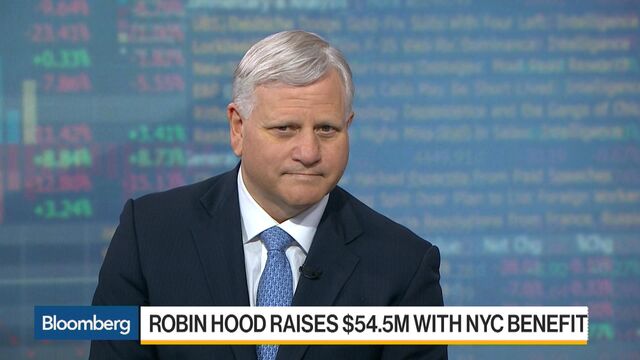 Ken Griffin, the largest single contributor to the $54.5 million raised at the Robin Hood Foundation's "Love and Leadership" benefit on Monday, brought along his mom for what he dubbed an "extended Mother's Day celebration" that involved way more than a bouquet and card.

Comedian Dave Chappelle talked about sharing a joint with a homeless man. Miley Cyrus performed a song about inspiration that she said nobody but her dogs had heard yet, then sat down next to Liam Hemsworth and John McEnroe. Jennifer Lopez, in a gold gown, and Alex Rodriguez, an event co-chair, sat together to watch a video which included his recounting of his mom holding down two jobs to raise her family, as well as a big dance number representing the moves Lopez honed growing up in the South Bronx.

But really, what could be more exciting than your own billionaire son receiving a mention on stage? Cathy Griffin, in an interview, kvelled. "He's been a success since he was three years old," she said. "I can remember when he was really little, just learning how to talk, I was washing floors, and I had a bucket of water, and he said, 'Mom, how do you get those ripples in there?' He's always been inquisitive."
"I'm a project," Griffin said before turning to her. "Is my tie straight?"

That intimate moment, as much as the public ones, captures what Robin Hood's benefit was really about -- beyond the bells and whistles of a big party where Coldplay's Chris Martin performed and Henry Kravis huddled with Michael Douglas. The message was simple enough: Everyone needs help to thrive, whether it's someone to check your tie, homework, blood pressure or that there's enough money to pay the rent. 
For 29 years, Robin Hood has worked to get that help to New York City's poor by burrowing deep into the pockets of its most affluent (and others: the median gift size is $133). It's a mission the politicians attending the event endorsed.

"I'm a big believer in the right for everybody to rise up, and these guys put their money where their mouth is," Jeb Bush said, standing next to Paul Tudor Jones and Peter Kiernan.
"I still have the feather that Paul Tudor Jones wore 30 years ago when he started Robin Hood," Governor Andrew Cuomo said on stage, before noting New York's record number of homeless people and the failing schools it needs to address. "Government can't do it alone."

Robin Hood officials past and present made clear they want the organization to be a civic partner, not just in New York but nationally. It works toward this goal with its "triple whammy" grant process, said Eric Weingartner, CEO of The Door, who worked at Robin Hood for several years. "Whenever Robin Hood gives a grant, it has to change lives for New Yorkers, do something that government can learn from, and convince colleagues in the same field that your approach means something," Weingartner said.
Read also: Robin Hood raises $54.5 million with NYC benefit
The Door's model is to put all the services for at-risk youth it serves under one roof. "A kid walks through The Door, and we help that kid connect with housing, a job and healthcare. Last week, we helped three kids avoid being deported."

As Weingartner spoke, Wes Moore, the new CEO of Robin Hood, emerged from behind a curtain -- he'd been practicing his remarks before his debut on the Robin Hood benefit stage, which came in front of 3,700 guests, including Bill Ackman, John Griffin, Mary Erdoes and Lloyd Blankfein.
First to greet him in the park-themed cocktail hour was Ray McGuire, Moore's boss when he worked at Citigroup. "You're my man, you've got this," McGuire said.
"You see the enormity of the space -- anyone who tells you it's not something that sits on you would be lying," Moore said. "At the same time, I'm staying grounded in the entirety of what we're trying to do. Everyone is here for the same reason. That reason is poverty is unacceptable and getting worse, and we have to respond."

At past galas, the donors were given necklaces that lit up to indicate how long they've supported Robin Hood. At this year's gala, grantees received the necklaces. They were heart-shaped and blinked red.
"I'm not sure why we're so tricked out," said Christine Quinn, the politician turned CEO of shelter-operator Win. "I'm hoping the heart explodes into a big check."
Before it's here, it's on the Bloomberg Terminal.
LEARN MORE