Merkel Challenger Clings to SPD Campaign Promises Despite Losses
By , , and
Schulz says Social Democrats to 'discuss' wealth tax

Says fight for Sept. 24 election is only just beginning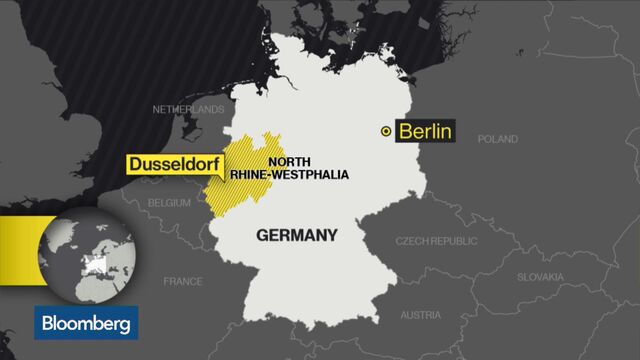 German Social Democratic leader Martin Schulz vowed to step up his bid to unseat Chancellor Angela Merkel, signaling he'll stick to a platform of more public investment, restraint on defense spending and deeper integration in the euro area.
Trailing in the polls, Schulz sought to wipe the slate clean for the national election on Sept. 24 after leading the SPD to three straight losses in regional voting. The latest defeat came Sunday in North Rhine-Westphalia, an industrial heartland that's been a Social Democratic stronghold for most of the period since World War II.
"The score isn't zero to three -- the game has now only just started," Schulz told broadcaster ARD in an interview late Monday. "The SPD must strive to become the strongest party in Germany, even if time is short and it's a rocky path."
With Merkel occupying much of the political center, Schulz's challenge is to revive the momentum that led Germany's second-biggest party to near parity with Merkel's Christian Democrat-led bloc less than two months ago. A national wealth tax is one topic the SPD will discuss as it drafts the election platform it plans to present in June, Schulz told ARD.
Manfred Guellner, head of Berlin-based pollster Forsa, said the SPD needs an "attractive candidate" to bring voters back to the fold. "Martin Schulz, despite a brief surge, doesn't seem to be this person," Guellner wrote in a post-election analysis.
Brexit, Taxes
Schulz signaled that the platform will call for increased public spending, particularly on education and research, and greater harmony among the 19 nations that share the euro.  A draft of the SPD's position paper called for tax relief for the majority of workers, according to Deutsche Presse-Agentur.
Schulz said the SPD will take a hard line on tax cheats and on the European Union's talks with the U.K. on Brexit, saying "we can't allow a large island right at our doorstep to pursue a tax policy that's against the interests of the single market" of the EU.
Germany's Foreign Ministry, headed by Social Democrat Sigmar Gabriel, said it's drafting a paper outlining a renewed Franco-German push on issues including the euro.
"In the international situation in which our country and Europe finds itself, a strengthening of Europe and a deepening of the euro area is in Germany's best interest," Schulz told supporters on Monday.

Support for Merkel's bloc was 37 percent, 10 percentage points ahead of the SPD, in a national poll published by Emnid on Saturday. The same pollster showed the parties in a dead heat throughout February and March.
Merkel has reasserted herself as a force of stability in a geopolitical order fraught with risk, between Vladimir Putin's Russia to the east and an increasingly unpredictable U.S. ally in the administration of President Donald Trump. The whiff of a desire for change that emerged after Schulz's nomination has given way to a fresh tailwind for a popular chancellor who has governed for almost 12 years.
"Sometimes a boxer gets a punch to the gut," Schulz said Monday. "But that doesn't mean the next round goes to the opponent."
Before it's here, it's on the Bloomberg Terminal.
LEARN MORE