Watches
This $3,000 G-Shock Is Inspired by Samurai Armor
Hands on with Casio's latest high-end G-Shock, the MRG-G1000B-1A4 Akazonae.
By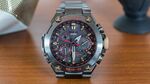 Originally published by Jack Forster on Hodinkee. 
The Casio G-Shock is the most heavily armored watch in the world, and for most of its career, irrespective of its incarnations, the armor it has worn has looked distinctively modern, whether in the original palette of blacks and dark greys, or in the neon-bright colors of more fashion-forward G-Shocks. No matter the color scheme, however, the G-Shock has remained the G-Shock—capable of surviving impacts that would destroy virtually any other watch you can think of, and often with additional protection added depending on the model (the Mudmaster series, for instance, has gasketing specially designed to resist the intrusion of, well, mud).  

In the last few years, Casio's MR-G series of high-end G-Shocks has come to be populated with timepieces that reflect more traditional Japanese crafts, and elements of Japanese culture—probably the best known example of this approach are the "Hammer Tone" MR-G watches,which are decorated using the tsuiki hammering technique, as applied by master craftsman Bihou Asano. At Baselworld 2017, Casio debuted the latest entry, the MRG-G1000B-1A4 Akazonae, which incorporates red accents meant to reflect the shade of red used in traditional Japanese samurai armor—in particular, the armor worn by senior samurai of the Takeda clan, during the Sengoku ("Warring States" period, c. 1467 - c. 1603). 
The Sengoku period ended with the victory of Tokugawa Ieyasu, and his ascension to the rank of shogun, (supreme ruler of Japan) which marked the beginning of a long period of peace, and the establishment of the Tokugawa shogunate. (The term "Warring States" period was taken by historians from that used to describe a much earlier period of similar civil wars in China, between competing warlords. The victory of Tokugawa Ieyasu was famously the subject of James Clavell's bestseller, Shogun.)
Aka-zonae means "red-colored armor" and although there had been red armor prior to the Sengoku period, Akazonae specifically refers to the crimson armor worn by General Sanada Yukimura. A renowned tactitian, he was hailed with such epithets as "A hero who may appear once in a hundred years" and "the crimson demon of war," and he was especially well-known for winning battles through superb generalship against numerically superior opposing forces; during his lifetime he was called the "number one warrior in Japan" (which at the time was really saying something).



In Japanese Samurai Armor Book 16 - Akazonae Red Armor, authors Takeda Ii and Sanada Habuto note, "The Takeda clan is well known as the originator of Akazonae. There were others, however, such as the Akazonae of the Hojo and the Sanada clans, but the Takeda clan was most revered for bravery and fighting prowess. Nevertheless, the Takeda clan was routed in Tensho 10 (1582). The Takeda Akazonae were afterward allied to Naomasa Ii, the first aide of Ieyasu Tokugawa. Naomasa Ii fought together with many brave survivors of the Takeda, and together clinched many a battlefield victory. So well known were the Akazonae of the Ii clan that they became synonymous with red armor in Japan, and today, the Ii clan is most closely associated with Akazonae - Red Armor." 


Now, if you're going to be named for the leaders of shock troops commanded by "the crimson demon of war," you'd better measure up in the toughness department, which the MRG-G1000B-1A4 certainly does. The case and bracelet are titanium, which has been given Casio's "Deep Layer Hardening" treatment (making it about 5 times harder than ordinary titanium) and for scratch resistance, both case and bracelet are coated with DLC (Diamond-Like Carbon). In a departure from normal Casio practice, many operations are accessed via a screw-down crown (a feature characteristic of this Casio module). Water resistance is 200 meters; and a number of construction features are in place which enhance shock resistance, such as a carbon fiber low-mass seconds hand (less apt to be displaced by strong shocks) and a one-piece structure for the hour markers—they're all part of one, crown-like unit, most of which is hidden by the dial; this means indexes aren't going to drop off (ever). The crystal is sapphire, with antireflective coating.


This is a Tough Solar G-Shock, and timekeeping accuracy is ensured via a GPS receiver, with six-channel radio backup. The subdial on the right will show you, in addition to the day of the week, your approximate latitude when a GPS lock is achieved. Other features include automatic correction of the position of the hands in case of accidental (impact induced) displacement, a chronograph and countdown timer, alarm function, calendar correct to 2099, and date display. The time can be displayed in 40 time zones.

It will probably surprise no regular Hodinkee reader to read that this is a massive watch—well, you don't get into G-Shocks because you want something that will disappear smoothly under a French cuff. The case is 54.7mm × 49.8mm × 16.9mm and the watch weighs 153 grams, which is a bit over our standard reference for watch weight, the Seiko SKX-007 (as measured in our in-office watch weigh-off.) It doesn't wear as heavy as it sounds, however—maybe the sheer size has something to do with it; you expect it to weigh quite a bit more than it actually does.


The MRG-G1000B-1A4 Akazonae is $3,000 (yes, aggressive for a G-Shock but obviously this is, technically and from a materials standpoint, not your usual G-Shock), and it's available now.
The MRG-G1000B-1A4 Akazonae: GPS Tough Solar with radio time correction backup, full multifunction feature set including the display of the time in 40 time zones, and automatic correction of the time six times a day. More info from Casio is in the Baselworld 2017 Akazonae site.
Hodinkee is the preeminent resource for modern and vintage wristwatch enthusiasts. Through in-depth reviews, live reports, and dynamic videos, Hodinkee is bringing watches to a 21st-century audience.
Before it's here, it's on the Bloomberg Terminal.
LEARN MORE