North Korea Would Talk to U.S. If Terms Right, Yonhap Says
By
North Korean diplomat speaks to reporters at Beijing airport

No commitment to speak to new South Korean President Moon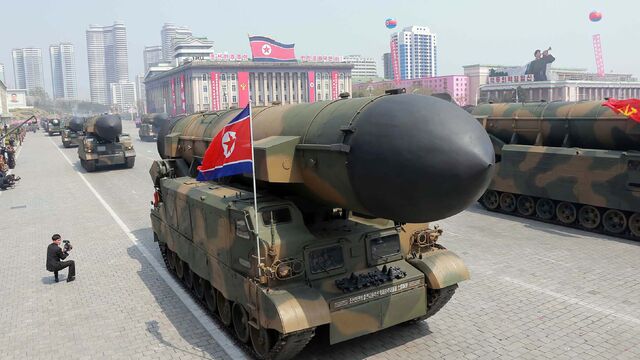 A senior North Korean official said his country would be willing to talk to the U.S. government if conditions were right, according to South Korean news agency Yonhap.
Choe Sun-hui, director general for North American affairs at North Korea's foreign ministry, made the comment to reporters in Beijing, Yonhap reported Saturday.

The remarks follow comments by U.S. President Donald Trump that he would be "honored" to meet North Korean leader Kim Jong Un under the right conditions. Trump has also pledged to consider all options to rein in Kim's nuclear-arms ambitions.
"To say 'under right conditions' basically means they won't talk now," said Shin Beomchul, a professor at Korea National Diplomatic Academy. "The remark is definitely a bit softer in tone compared to the past when the North would've said no to talks unless the U.S. acknowledges them as a nuclear power. "
Last week, the U.S. House passed legislation that would expand economic and human-rights sanctions against North Korea. Choe's comments come after South Korea this week chose its new President Moon Jae-in, who favors a two-track approach on sanctions and talks with the North.
How South Korea's Kim Brings Shift on North Korea
Choe was part of a North Korean delegation that recently met with a group of American experts in Oslo, Norway, Yonhap reported. The North Korean delegation members were at an airport in Beijing on their way back to Pyongyang when they encountered the reporters, according to Yonhap.
Adding to the tension, North Korea last week used its Korean Central News Agency to accuse the U.S. and South Korea of conspiring to assassinate its leader, Kim Jong Un.
North Korea has conducted five nuclear tests in defiance of UN and U.S. sanctions and says it is working on long-range missiles to deliver atomic weapons.
For talks with the U.S. to start, it would have to be "on the basis of denuclearization," Shin said. "Whether they are willing to do that is unclear as of now."
(A previous version of this story was correct to change the description of a speaker.)
(
Adds information from news agency account on threats in seventh paragraph.
)
Before it's here, it's on the Bloomberg Terminal.
LEARN MORE