At the White House, Comey Damage Control and No Easy Way Out
By and
Administration officials concede firing was mishandled

Trump says likely to move on FBI director pick within days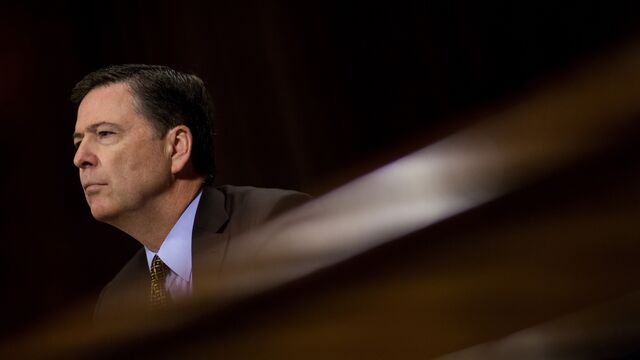 At the end of a week chaotic even by Trump White House standards, staff members and outside advisers concede the firing of FBI director James Comey was mishandled and that they've lost control of the storyline in a flood of contentious media coverage.
Now they're trying to contain the damage by steering President Donald Trump back to calmer waters, so far without success.
Trump started the week by firing the FBI chief -- only the second time that's happened in the bureau's history -- and ended it by tweeting a barely veiled threat against Comey that also raised the specter of a U.S. president again secretly recording his White House conversations.
People familiar with the inner workings of the White House sought to portray the situation as serious, but not frantic or desperate -- more like a bad news cycle the president needs to put behind him, in the words of one outsider who is in frequent contact with White House staff.
But Trump's team recognizes that they've been forced on the defensive. One White House staffer expressed frustration, saying the media was "crying wolf" with every controversy and by portraying the week's events as threatening Trump's grip on the presidency. 
The consensus in some parts of the administration is that the best thing Trump can do to help himself would be to pick a strong replacement for Comey who can garner broad support in Congress. But the timing for a nomination is unclear.

The search for Comey's successor began in earnest on Saturday, when Attorney General Jeff Sessions and Deputy Attorney General Rod Rosenstein interviewed several candidates for a nominee that Trump will send to the Senate. The initial contenders they saw were acting FBI Director Andrew McCabe, Texas Republican Senator John Cornyn, former Justice Department official Alice Fisher and Michael Garcia, a former U.S. Attorney in Manhattan, according to a person familiar with the matter. U.S. District Judge Henry Hudson and Adam Lee, the head of the FBI's Richmond, Virginia, branch were also on the roster.
Among over a dozen contenders, the Associated Press reported that an association of FBI agents favors former Representative Mike Rogers of Michigan, one-time chairman of the House Intelligence Committee and an ex-FBI agent, for the post.
Trump expects to make a "fast decision" on Comey's replacement, he told reporters on Saturday, possibly before he leaves the U.S. on May 19 for his foreign foreign trip as president. The candidates under consideration was "very well known" and of the "highest level," he said.
Out of Washington
Other Trump allies say the president would benefit from getting outside Washington and traveling the country to talk about tax reform, trade and other policy initiatives, rather than seething at cable news and tweeting about what he watches.
Some Trump loyalists saw a calculated attempt by the president to keep changing the subject -- from Comey's firing to Comey's plea to keep his job and then, on Friday, to deflect stories that said he demanded loyalty from a government official who is supposed to be staunchly independent.
Issuing provocative statements to disrupt and reset a bad narrative has been a go-to tactic for Trump in business and politics. Except this time, he was tweeting about fundamental constitutional principles -- an independent FBI and privacy for conversations held inside the White House. It didn't go well.
One administration staff member, who spoke on condition of anonymity to discuss internal deliberations, admitted that the White House communications staff could have done a better job of smoothing out the administration's message. But Trump's aides were all comfortable with his decisions, the person said.
Some of those close to Trump gamely insisted that the White House had been barely ruffled by the events of the week.
'Seemed Normal'
"Everything seemed normal to me," said former New York Mayor Rudy Giuliani, who was at the White House on Wednesday, the day after Comey's firing, to deliver information about a cybersecurity initiative to staff.
"This is normal from the point of view of the Trump campaign, the Trump White House. They don't overreact; everyone knows the president puts out his own messages. I don't think there's any feeling that there's any major problem," he said.
Despite the media maelstrom and the stepped up calls from congressional Democrats for an independent investigation of possible Trump campaign ties to Russia, Trump's aides described the president as going about his business as usual.
Trump has participated in briefings and absorbed reading materials prepped by his national security team, and he's gone to the White House situation room for sensitive discussions on matters such as North Korea and Afghanistan. During a lengthy dinner Thursday night with his wife, Melania, and longtime family friends, Trump told stories from the past and shared anecdotes from the first 100 days of his presidency.
Drowned Out
The White House attempted to move past the controversy, trotting out Homeland Security Adviser Tom Bossert at the beginning of Thursday's press briefing to discuss an executive order on cybersecurity, and then National Security Adviser H.R. McMaster on Friday to preview Trump's first foreign trip next week. Neither appearance garnered much news coverage.
Instead, Trump's statements and tweets drowned out other White House messages.
In an interview with NBC News, Trump contradicted White House's official narrative of Comey's firing, saying he would have dismissed the FBI chief no matter the recommendations of Sessions and Rosenstein. He also called Comey a "showboat" and "grandstander," generating anger within the FBI and pushback from Comey's allies.
Then in six tweets Friday morning Trump raised more questions.
"James Comey better hope that there are no 'tapes' of our conversations before he starts leaking to the press!" Trump wrote. He concluded the series with a tweet calling the investigation into Russian interference in the election and his campaign's possible involvement a "witch hunt," asking, "when does it end?"
The answer appeared to be: not any time soon.
Feinstein and Grassley
Senate Judiciary Chairman Chuck Grassley and the panel's top Democrat, Senator Dianne Feinstein, on Friday requested follow-up briefings from Rosenstein and McCabe about the investigation into Russian election meddling.
Rosenstein wrote a memorandum -- faulting Comey's handling of a probe of Democrat Hillary Clinton's emails last year -- that the White House released on May 9 to justify Comey's firing. McCabe has temporarily taken over leadership of the FBI, and at a congressional hearing Thursday he made clear that he liked and respected Comey, and had no intention of briefing Trump on the Russia investigation.
Separately, Representative Adam Schiff of California, the ranking Democrat on the House Intelligence Committee, said Trump's tweets had two purposes: to "threaten the FBI director he just fired in the middle of the Russia investigation -- and who may now be a witness," and to justify conflicting stories from the White House.
"For a president who baselessly accused his predecessor of illegally wiretapping him, that Mr. Trump would suggest that he, himself may have engaged in such conduct is staggering," Schiff said. "The president should immediately provide any such recordings to Congress or admit, once again, to have made a deliberately misleading -- and in this case threatening -- statement."
In a Fox News interview to air on Saturday night, Trump said he "can't talk about" the idea there might be tape recordings. "I won't talk about that," Trump will say on "Justice with Judge Jeanine," according to a transcript from the network.
— With assistance by Steven T. Dennis
Before it's here, it's on the Bloomberg Terminal.
LEARN MORE