Your Evening Briefing
Here are today's top stories.
By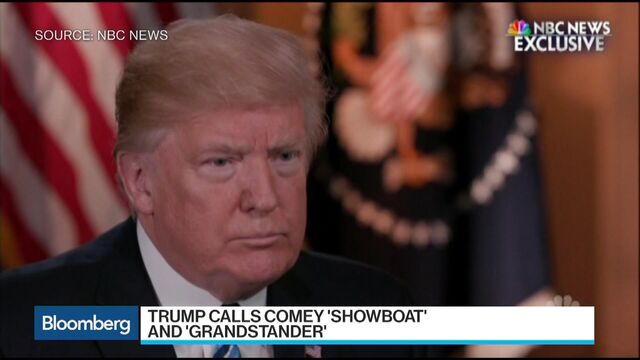 Want to receive this post in your inbox every afternoon? Sign up here.
Good afternoon. There has been no shortage of new tweets, press statements, and contradictions today as Washington — and the rest of the country — still reels from James Comey's firing from the FBI. So we'll get right to it. But first, an especially prescient moment from Veep. —Megan Hess
Trump took his fight with the FBI to a new level. President Donald Trump fired off warnings and barely veiled threats in a burst of tweets on Friday morning that raised new questions about the dismissal of former FBI Director James Comey and kept attention on the investigation of Russian political meddling. Trump suggested there may be secret recordings of his conversations with Comey and threatened to cancel future press briefings. Yet try as he might, Trump cannot escape Russia as congressional probes push ahead and the FBI shows no sign of backing down.
An extortionist hack of U.K. hospitals was part of a worldwide attack. Hackers who may be using leaked computer exploits from the U.S. National Security Agency infiltrated computers in dozens of countries in a fast-spreading attack on Friday. The massive ransomware attack forced British hospitals to turn away patients and breached systems at organizations from Spain to Russia to Taiwan.
More tax talk, still no tax returns. Trump's personal lawyers said his tax returns from the past 10 years show that — with a few exceptions — he received no income from Russian sources and owed no debts to Russian lenders. But an independent tax lawyer who works with the wealthy questioned the letter's value.
The hazards of Penn Station. Inspections of the 21 railroad tracks at New York's Penn Station after two derailments in two months revealed a profusion of equipment in need of immediate repairs, according to the Federal Railroad Administration. The agency discovered loose or missing track clamps, bolts or braces, as well as insufficient fasteners in track segment or rail joints.
You're killing it with your 401(k) — by doing nothing. A record 27 percent of workers in a Fidelity plan increased their contributions to 401(k) defined-contribution accounts, as a percentage of their salaries, in the past 12 months. Those employees didn't all suddenly wake up and get serious about saving. The increase is also due to "auto-escalation," which nudges employee contribution rates up one percentage point a year.
All of these things are just like the other. Tiffany & Co., which is suffering from declining sales, is now facing criticism for a board marked by long tenures and a lack of diversity. Five of Tiffany's 12 board members are over age 70, and the entire group's average age is 67 years, according to a letter from CtW Investment Group, a firm that often takes up corporate-governance issues. The retailer has no minorities on the board and just two women, which compares with an average of 21 percent for the S&P 500.
The "love locks" from Paris bridges will be auctioned off on Saturday. Clamped there by tourists and lovers over the past decade, the locks, whose weight brought some structures to near-collapse, were considered an eyesore by Parisians. The city hopes to raise between 150,000 euros ($163,000) and 200,000 euros from the sale, auctioneer Olivier Collin du Bocage said. Proceeds will go to charities helping refugees.

Before it's here, it's on the Bloomberg Terminal.
LEARN MORE