What's at Stake in Iran's Presidential Election: QuickTake Q&A
By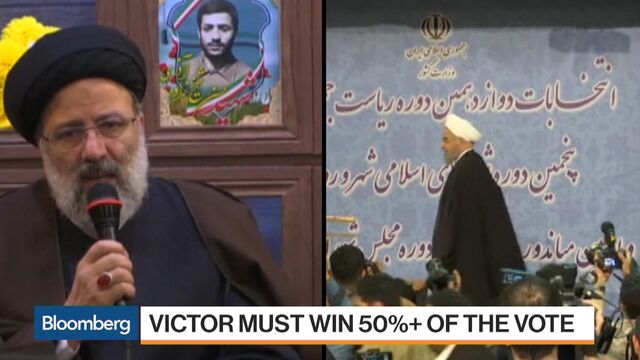 Iran's May 19 election is seen as a referendum on the policies of President Hassan Rouhani, the moderate cleric who accepted limits on his nation's nuclear work in exchange for relief from international sanctions. In seeking re-election, Rouhani, 68, faces conservative challengers who complain that he's failed to deliver on promises that the nuclear deal would bring prosperity. But he got a break when his predecessor, Mahmoud Ahmadinejad, was ruled ineligible to join the race. At stake in the election is whether Iran will continue integrating with the rest of the world or backtrack toward isolation.
1. Who poses a challenge to Rouhani?
One challenger is Mohammad Baqer Qalibaf, the mayor of Tehran since 2005. Qalibaf, 55, is a conservative who lost to Rouhani in 2013. In the first two presidential debates, Qalibaf depicted Rouhani as focused only on the concerns of the wealthiest Iranians. Qalibaf has pointed to his management of a city of 12 million people, when sanctions were at their most severe, to prove he's suited for the presidency. On the other hand, his image was damaged by allegations that he granted property to city council members at discounted prices. (He's denied any wrongdoing, saying the transactions were legitimate.) He's also been the subject of protests over safety failures in a Tehran high-rise that collapsed after catching fire in January, killing 20 firefighters.
2. Who else is a contender?
Cleric Ebrahim Raisi, 56, also a conservative. Raisi wears a black turban, signifying he's a direct descendent of the Prophet Muhammed. He's held a number of judicial roles, including attorney general, and was appointed last year by Supreme Leader Ayatollah Ali Khamenei to manage the Astan Quds Razavi, a wealthy Islamic charitable foundation that controls the country's holiest shrine in the northeastern city of Mashhad. The appointment signaled the supreme leader's confidence in Raisi, who has been mentioned by Iranian media as a possible successor to the 77-year-old Khamenei. In the campaign, Raisi has stressed his experience as the head of the charitable foundation as evidence of his care for the poor, his understanding of their woes and his managerial skills.
3. What's the main election issue?
Ayatollah Ruhollah Khomeini famously said that Iran's 1979 Islamic revolution, which he led, was over justice and independence from foreign powers, not "the price of watermelons." Almost four decades later, the most common themes in the presidential race are the cost of living and the lack of jobs. (Unemployment in Iran is 12 percent, higher among women and young people.) In a January poll, 73 percent of Iranians said the nuclear deal hadn't improved their living conditions.
4. What's Rouhani's economic record?
Under his presidency, inflation has fallen from a high of 40 percent to single digits, and the gross domestic product stopped shrinking and is estimated to have grown at a rate of more than 6 percent in the fiscal year that ended in March. However, almost all the growth has been in the oil industry, with little of the benefits filtering down to ordinary Iranians. Rouhani tells Iranians that will take time. He's courted foreign investors, despite opposition from conservatives, who tend to favor an economic model focused on self-sufficiency. He's had some success securing investments from abroad, though less than his government had hoped.
5. What do his rivals say?
They argue that Rouhani has failed to meet his pledge to improve the livelihood of Iranians through the 2015 nuclear deal. They promise "emergency measures" to support the poor and to help the young afford to marry and secure housing.
6. Where do the challengers stand on the nuclear deal?
Both Qalibaf and Raisi have made a point of referring to it as an agreement endorsed by the establishment that needs to be respected by the next government. That was no surprise, given that Khamenei, who has the final say on affairs of the state, approved the deal. Still, Raisi has said the accord has many "flaws" and that in negotiating it, Rouhani portrayed Iran in a weak light.
7. Why couldn't Ahmadinejad run again?
Ahmadinejad, who served as president from 2005 to 2013, surprised Iranians when he registered to be a candidate even though Khamenei publicly requested that he stay out, to avoid polarizing the nation. In the end, Ahmadinejad was barred from running by Iran's Guardian Council, which acts as an election watchdog and vets candidates for office. Ahmadinejad once had Khamenei's backing, but during his second term, he became alienated from the traditional conservative camp and also had a falling out with the leader. He maintains some support in rural areas, and his disqualification from the race was considered a boon for Rouhani.
8. What powers does Iran's president have?
The president heads the executive branch but is subservient to the supreme leader. A number of government entities are outside the president's purview. Those include the state broadcaster, whose head is appointed by the supreme leader, and the Iranian Revolutionary Guard Corps., which answers directly to him. The Guard is an elite security force that has an economic wing with interests in Iran's economy including in telecommunications, infrastructure and energy.
9. What do the polls say?
There are no reliable polls in Iran. A survey released on May 9 by the state-affiliated Iranian Students Polling Agency suggested that Rouhani would get 42 percent of the vote to 27 percent for Raisi, 25 percent for Qalibaf and less than 4 percent each for the other three candidates. If no candidate gets more than 50 percent of the vote May 19, a runoff is scheduled for May 26. In a poll by the agency published earlier in May, Rouhani led Raisi by 53 percent to 32 percent in a head-to-head race. Against Qalibaf, Rouhani was ahead by 49 percent to 38 percent.
10. Have Iran's elections been considered free and fair?
Critics of Iran's electoral system say candidates are more often vetted on the basis of the establishment's interests than their actual qualifications. They point to the barring from the presidential race of Ahmadinejad this year, of former president Ali Akbar Hashemi Rafsanjani in 2013, and of all female candidates. In 2009, Ahmadinejad's re-election was tainted by allegations of vote rigging that provoked widescale protests.
The Reference Shelf

Before it's here, it's on the Bloomberg Terminal.
LEARN MORE