Trump Ally Roger Stone Says He Won't Testify Privately on Russia
By and
Stone says on BTV he's 'anxious' to testify in public hearing

GOP operative says he talks with Trump 'from time to time'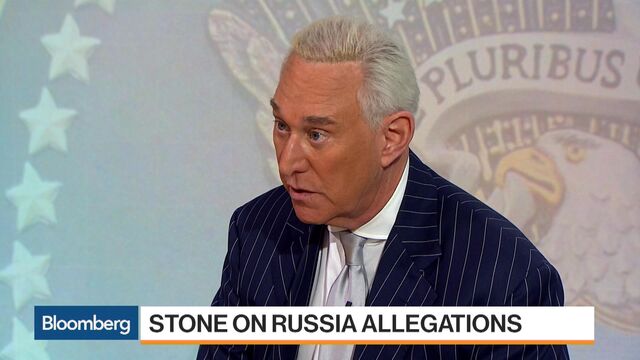 A longtime political ally of President Donald Trump said in a Bloomberg Television interview Friday he is "anxious" to testify publicly to congressional committees investigating Russian meddling in the U.S. election, but that he would decline to meet with lawmakers behind closed doors.
Roger Stone, a veteran Republican political operative, said he has been contacted by the Senate and House intelligence committees seeking documents regarding any contacts he has had with Russia, including with Russian companies or ownership of real estate in that country.
"That would be none. None whatsoever," he said. He contended the Russia allegations were created by Hillary Clinton aide John Podesta and that there is "not any shred" of evidence to support it.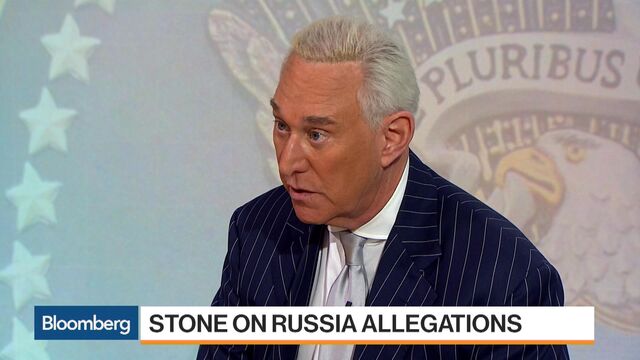 He said he wants to testify before both committees in public though not in private. Stone contended he's been "defamed" and "maligned" by some lawmakers.
If he testified in private, "they would mischaracterize what you say," he said. "I should have the opportunity to respond in public."
Stone said he talks with Trump "from time to time," but he refused to say how often or to characterize their discussions. He said he wasn't the source of news stories that said he recommended that Trump fire FBI Director James Comey, though he said, "It is impossible not to know my views."
Before it's here, it's on the Bloomberg Terminal.
LEARN MORE