Steel's Soaring Profit Not Good Enough as China Worries Grow
By and
ArcelorMittal profit more than doubles as volumes rise

ThyssenKrupp boosts profit forecast amid steel recovery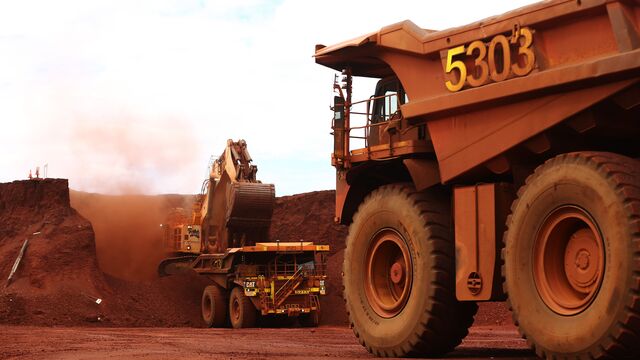 The global recovery in steel demand is making an often-beleaguered industry profitable again, but investors are still not convinced.
The world's largest producer, ArcelorMittal, posted its biggest quarterly profit in almost five years on Friday and earnings increased at Thyssenkrupp AG. Yet both shares sank as ArcelorMittal tempered its outlook for the second quarter and said Chinese exports remain a concern, while Thyssenkrupp predicted negative free cash flow.
Even after the strong start to the year, ArcelorMittal now expects stable market conditions in the second quarter, after earlier predicting margins may expand. The company also reported increased net debt and negative free cash flow in the quarter.
"We would not expect that consensus estimates for 2017 will change significantly," said Carsten Riek, an analyst at UBS Group AG in London. "Especially after market fears that oversupply and an increase in imports could put pressure on steel prices and margins in second half 2017."
ArcelorMittal fell 8 percent, the biggest decline since June, and closed at 6.649 euros in Amsterdam. The stock hit a three-year high in February and is down 5.2 percent this year. Thyssenkrupp fell 4.1 percent to 21.36 euros.
Street Wrap: Thyssenkrupp negative cash flow is in focus
Street Wrap: ArcelorMittal 1Q beats, but risks remain

Steelmakers have seen profit buoyed with metal prices at the highest in more than two years in key markets such as the U.S. and Europe. The rally was spurred by rising demand and a curb in record Chinese exports that had dented prices across the globe.
Still, the steel industry, which has never fully recovered from the global financial crisis and has become used to setbacks, is likely to proceed cautiously. There are already signs that cooling prices in China are having an impact on global prices and ArcelorMittal said Friday that continued over-capacity in the global steel industry, especially in China, mean that the sector is still affected by "unfair imports" in many of its key markets.
Read more: Steel's big rally this year is now facing a dual threat
"Despite recovering domestic demand in our core markets, our cost-competitive and well-invested assets are not consistently earning their cost of capital due to this persistent pressure," ArcelorMittal said.
Still, the good news is that world is using more steel. Excluding China, the top producer and user, global demand probably will rise 2.4 percent this year, compared with a 0.7 percent increase in 2016, according to the World Steel Association.
Producers are also benefiting from an easing of Chinese exports. Steel shipments fell 26 percent to 27.2 million metric tons in the first four months of the year, the lowest total for the period since 2014. The drop was driven by improving domestic demand, plant closures and an increase in tariffs and trade probes from the U.S. to India.

For ArcelorMittal, that's translated into the highest quarterly profit since 2012. Earnings before interest, taxes, depreciation and amortization in the three months through March more than doubled to $2.23 billion, beating analyst expectations. Sales jumped 20 percent.
Thyssenkrupp, Germany's biggest producer, boosted its fiscal-year profit forecast. Its European steel division's adjusted EBIT increased 42 percent to 92 million euros ($100 million), helped by price increases.
— With assistance by Neo Khanyile
Quotes from this Article
Before it's here, it's on the Bloomberg Terminal.
LEARN MORE