Sessions Tells U.S. Prosecutors to Push for Toughest Penalties
By
Attorney general says move will end DOJ inconsistencies

Says policy, which would undo Obama effort, is moral and just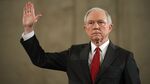 U.S. Attorney General Jeff Sessions directed federal prosecutors to seek more serious charges against most suspects, a move he said would end "inconsistent" policies of the Justice Department.
Sessions, in a memo directing prosecutors nationwide to pursue the most serious provable offenses, also instructed them to recommend the longest possible sentencing recommendations and required them to seek approval from a U.S. Attorney or assistant attorney general for any variances. Any policies that aren't consistent with the new guidelines will be rescinded immediately, he said.
"Working with integrity and professionalism, attorneys who implement this policy will meet the high standards required of the Department of Justice for charging and sentencing," Sessions said.
The policy, which Sessions called moral and just, undoes an effort started by former President Barack Obama in 2013 to shorten or eliminate mandatory minimum sentences, which Obama said disproportionately impacted racial minorities. Obama and those opposed to mandatory minimums contend they unfairly subjected minority defendants to longer prison terms than white offenders for similar offenses.
Sessions, an Alabama Republican who previously served in the U.S. Senate, was his state's top federal prosecutor in the 1980s, when the current crop of get-tough measures on drugs was passed. He's been a fierce critic of relaxing sentences.
Before it's here, it's on the Bloomberg Terminal.
LEARN MORE