SAC Capital's $135 Million Insider Trading Settlement Approved by Judge
By
Ruling ends last insider claim against Steven Cohen's fund

Elan investors sued over trades by SAC fund manager Martoma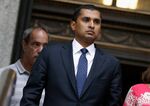 A judge approved the $135 million settlement to a group of investors by SAC Capital Advisors LP to resolve the final insider trading claims against Steven A. Cohen's former investment company.
The ruling Friday ends a lawsuit in which Elan Corp. shareholders claimed they lost money because of insider trading in the company's shares. U.S. District Judge John Koeltl also approved $29.5 million in legal fees and expenses for the shareholders' lawyers.
Mathew Martoma was convicted in 2014 of making $275 million for SAC Capital on trades in Wyeth and Elan. Martoma is serving a nine-year prison sentence in a Miami federal prison. He's appealing the conviction and sentence.
Cohen, 60, is barred from managing outside money until 2018 under an agreement with the SEC. Cohen's latest firm, Point72 Asset Management LP, manages his $11 billion fortune.
Martoma was convicted of using inside information from clinical trials of bapineuzumab, an Alzheimer's disease drug that was under development by Elan and Wyeth, to make money and avoid losses for the hedge fund, jurors found. He and Cohen spoke on the phone for 20 minutes before SAC Capital started selling a $700 million position in the companies, according to evidence presented at Martoma's trial.
In testimony before the SEC, Cohen said SAC Capital sold its Elan shares after Martoma told him he was uncomfortable with the position. Cohen refused to testify at Martoma's trial, citing his right against self-incrimination.
Cohen wasn't charged with insider trading. SAC Capital pleaded guilty and agreed to pay a record $1.8 billion in civil and criminal penalties. SAC Capital and Cohen deny all wrongdoing in the Elan settlement. SAC Capital paid $10 million to settle a similar Wyeth shareholder lawsuit.
The case is Kaplan v. SAC Capital Advisors, 12-cv-09350, U.S. District Court, Southern District of New York (Manhattan).
Before it's here, it's on the Bloomberg Terminal.
LEARN MORE