De Blasio's Management Boasts Are Questioned After Jails Chief Quits
By
Ponte accused of misconduct as de Blasio seeks reelection

Political rivals charge it shows faulty management skills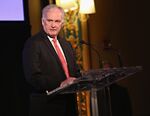 New York Mayor Bill de Blasio's management was criticized by potential re-election rivals after his jails commissioner quit amid allegations of misconduct.
Corrections chief Joseph Ponte announced his retirement Friday in a joint statement with the mayor, and neither mentioned the allegations. City investigators found he'd traveled more than 18,000 miles on personal business in his city-owned car and charged his city-issued credit card for more than $1,500 in gas and tolls. 
De Blasio, 56, who's seeking reelection this year, defended Ponte for two weeks saying the 40-year corrections veteran had improved conditions throughout the city's 10,000-inmate system. Ponte, 70, rose from an entry-level guard to lead prison systems in at least six states around the country.
"No matter how hard the mayor tried and how far he stretched, there is no excuse for an experienced top government official for not knowing that he should not use a city-owned car to travel outside the city for personal purposes," said Robert Gangi, a political newcomer who's running against de Blasio in the Democrat primary.
Ponte, appointed by de Blasio in 2014, drove his assigned vehicle out of state 28 times, for multiple days at a time, with many of the trips back to his home state of Maine, according to a city Department of Investigation report released April 28. In 2016, he was out of state on personal business for 90 days, investigators said.
Maine Trips
For weeks, Ponte excused his conduct saying he'd been given bad advice on the rules for using his city-owned vehicle. He agreed to reimburse the city for his driving costs.
During a WNYC radio interview Thursday, de Blasio rejected suggestions that Ponte should quit from City Council Speaker Melissa Mark-Viverito, his frequent ally. During a news conference the same day, the mayor said Ponte was "doing a fine job" and should continue.
"New York City owes a debt of gratitude to Commissioner Ponte for his tireless efforts to change the culture and improve the effectiveness of one of the nation's most challenging jail systems," de Blasio said in Friday's statement. Ponte thanked the department's staff and said he was "happy to have spent the last chapter of my career in New York City."
Most detainees in the city system are awaiting trial and unable to post bail, and more than 8,000 are housed on Rikers Island, which has become notorious for high rates of recidivism, violence, suicide and abuse. 
Reform Efforts
Ponte instituted several changes, boosting officers' training, school opportunities and rewards for good behavior. While his efforts have brought down violence between guards and inmates, it hasn't quelled violence among detainees. The facility should be closed, a commission formed by Mark-Viverito concluded last month.  
"Simply reducing the inmate population, renovating the existing facilities, or increasing resources will not solve the deep, underlying issues on Rikers Island," the commission said.
De Blasio said he agreed with the commission and called for a 10-year plan to close down the 413-acre jail complex, in favor or building smaller facilities throughout the city.
The jails already cost the city about $1.5 billion a year; to site and build new facilities while closing Rikers would cost hundreds of millions of dollars more, de Blasio has said. Local community boards throughout the city are protesting, saying they don't want detention facilities in their neighborhoods.
Assembly member Nicole Malliotakis, a Staten Island Republican seeking the party's mayoral nomination, called Ponte's resignation "long overdue" and "symptomatic of an administration with little regard and few controls over the time city officials spend."
Rivals Pounce
Gangi, the Democrat, said de Blasio's praise of the commissioner reflects "a blind spot in the man's leadership, an unwillingness to admit mistakes."
"It is about the crisis at Rikers that the mayor and Ponte ignored at the peril of countless men and women, and just another example of the mayor hiring a poor manager and not recognizing it until serious damage had been done," said Paul Massey, a real estate investor also seeking the Republican nomination. 
No matter how bad the stories coming out of Rikers have been for the past several decades, they have had little impact on the city's politics, said George Arzt, a Democratic political consultant who served as press secretary to former Mayor Edward Koch.
"New Yorkers care about issues affecting them -- taxes, public safety, schools, transportation -- but the city jails don't have an impact on the majority of people who vote," Arzt said. "It may put the mayor's management skills in something of a negative light, but on the scale of what can affect an election, it probably carries the weight of a feather."
Before it's here, it's on the Bloomberg Terminal.
LEARN MORE