business
Kuroda Attending G-7 Says Free Trade Helps Reduce Inequality
By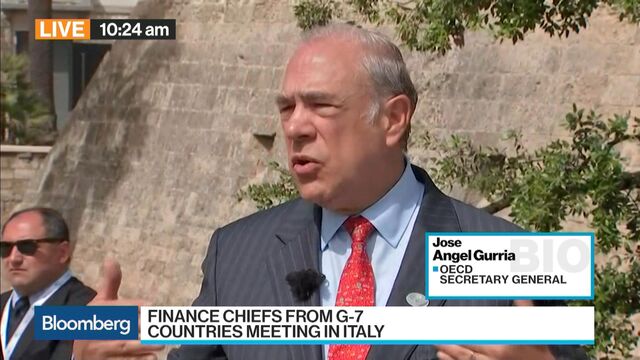 Bank of Japan Governor Haruhiko Kuroda said that open commerce helps reduce inequality, and that many of his Group of Seven colleagues agree with him.
"Inequality won't shrink by denying free trade and supporting protectionism -- rather, it's opposite," Kuroda said Friday before a meeting of G-7 finance chiefs in Bari, Italy. "I think that's the consensus among many of us."
Trade has been a bone of contention at global economic meetings since Donald Trump become U.S. president. At a Group of 20 meeting in March, officials almost didn't mention it in their communique as U.S. Treasury Secretary Steven Mnuchin pressed for them to agree it should be "fair" rather than "free" -- while a month later in Washington, he crystallized that position, citing the President Donald Trump as favoring "reciprocal free trade."

"Stopping technological innovation, scrapping globalization and going with protectionism won't be the solution at all," Kuroda said. "We advance with the innovation and keep free trade to enlarge the pie of the economy for a better redistribution and boosting support for those in need. To do that, we need economic growth."
Organization for Economic Cooperation and Development Secretary-General Angel Gurria said it would be shortsighted to link the income gap with globalization.
"Let's not blame globalization," Gurria told Bloomberg Television's Matt Miller on Friday. "There are individual policies in each of the countries that put together may be responsible for some of the undesirable results of what we call globalization."
To watch Gurria's full interview with Bloomberg Television, click here
Inequality is one of the topics being discussed in Bari, while trade has been left off the agenda.
"We are conscious that globalization is certainly an opportunity, but also a challenge as some people feel that are winners and some other feel that are left apart," European Economic and Monetary Affairs Commissioner Pierre Moscovici said.
— With assistance by David Goodman, Alessandro Speciale, Birgit Jennen, Lorenzo Totaro, Saleha Mohsin, Flavia Rotondi, Elena Gergen-Constantine, and Alessandra Migliaccio
(
Updates with OECD's Gurria in sixth paragraph.
)
Before it's here, it's on the Bloomberg Terminal.
LEARN MORE